Scalp Pain: What Causes It?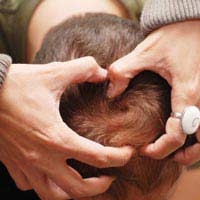 Having pain or tenderness in the scalp is different to having a headache. Scalp pain is felt at the surface of the skin covering the skull and tends to be sharp, stabbing or prickly, with a tingling sensation rather than the deep throbbing pain of a headache. It is rarely associated with other headache symptoms such as nausea, vomiting, or sensitivity to light or sound.
Scalp pain has several possible causes but is one of those health problems that sometimes proves impossible to diagnose, suggesting it may also have a stress component.
Trigeminal Neuralgia as a Possible Cause of Scalp Pain
Trigeminal neuralgia is a painful condition that is caused by inflammation or pressure around part of the trigeminal nerve, which supplies sensation to the scalp, forehead and face. The nerve has three different branches, and the point at which it is affected determines where the worst of the pain is felt. If the ophthalmic branch of the nerve is affected, the sharp, stabbing pain that the neuralgia brings on is felt predominantly in the scalp and around the eyes and along the forehead, producing intense scalp pain and the symptoms of a tension headache.
Trigeminal neuralgia can become a chronic condition but it tends to occur in bouts, with attacks sometimes daily for months, lasting anywhere between a couple of minutes and several hours. Then, for no apparent reason, the attacks can stop and the person affected can be pain free for months, only for symptoms to return later without warning.
Skin Conditions and Scalp Pain
Various skin conditions can affect the scalp and are much more difficult to treat because the affected skin is hidden under the hair. Eczema and psoriasis commonly affect the scalp and although these are not pain-causing, they do cause intense itching. As treatment is so difficult due to the inaccessibility of the sore skin, both these conditions can cause continual scratching of the skin. This can happen at night while you are asleep, so self-control doesn't really operate. Sometimes it is possible to scratch so much that the skin is broken and becomes inflamed, bleeds and may become infected by either fungi or bacteria. This secondary infection and self-inflicted tissue damage can cause chronic scalp pain.
Fibromyalgia and Scalp Pain
Fibromyalgia is a complex condition that is responsible for many different symptoms, including widespread pain. Many sites of the body are affected but pain in the scalp and head is commonly experienced. Someone with fibromyalgia also feels extremely tired, suffers sleep disturbances, depression and changes in body habits – frequent urination and irritable bowel symptoms – for example. The exact cause of fibromyalgia is not really well understood but it may be an autoimmune condition that affects the thyroid gland, causing it to become under active. This explains some of the symptoms but others may be due to further effects of the autoimmune response.
Scalp Pain Without a Cause
If scalp pain, or sensations in the scalp such as tingling, feelings of cold or heat, or a type of wriggling feeling occur without other symptoms, it may be that this is due to stress or anxiety. It is a symptom that is reported by a lot of people and it clearly worries them. Thinking that the sensations in the scalp are due to something more serious makes the problem worse. If the above conditions are obviously not present, however, scalp pain and odd feelings in the scalp are unlikely to be a sign that anything is seriously wrong. It may be a good idea to speak to your doctor about it, so that they can set your mind at rest, and then ask about stress management strategies or relaxation therapies.
You might also like...
Jabilent - Your Question:
I have some severe scalp pain that result to headaches.What could be the cause of this?
---
Our Response:
We cannot give medical advice on this site, you would have to visit your GP.
HeadacheExpert
- 16-Sep-16 @ 2:07 PM
I have some severe scalp pain that result to headaches.What could be the cause of this?
Jabilent
- 15-Sep-16 @ 6:37 PM
Hello I have started having a very Acute pain that is on my head between the Crown and the edge of my Right Ear. It starts very quickly and feel to start like a bee sting but after a couple of seconds it changes to a pain that feels more inside my head and then after a couple of pulses it's gone, all within about 10 Seconds. Been having this for an out 10 weeks and it's no worse or better. On the phone the Doctor said don't worry it will be a trapped nerve but I have some traveling to do and needa second opinion . Thanks Ken
Kerabo
- 2-Sep-16 @ 10:57 AM
For as long as I remember I've had this spot on the back of my head the size of a small pimple that lies right under the skin(I assume bc I can't see the back of my head) I always scratch it by accident but it's never bled so it's not a zit or scab but it hurts. Its a sharp pain that if I had to describe, feels like what I assume would be a cluster of nerves sticking out or like the odd 60 second headaches on the side of your head that feels like a broken blood vessel but goes away quickly (if anyone else has those) I'm not in any type of chronic pain, and its never caused any serious problems but I've just always been curious son any suggestions are appreciated.
Boop
- 11-Jun-16 @ 4:00 AM
I have short sharp stabbing pain at top left of head in scalp....it come and goes randomly...sometimes but not always pulsating vessels could be felt
Rambo
- 27-May-16 @ 11:35 AM
Dot - Your Question:
I have Occipital Neuralgia and just had the injections. Meanwhile scalp tenderness still dusts. Do I use heat or gold compresses?
---
Our Response:
I'm afraid we cannot advise on this - you would have to consult your GP/nurse.
HeadacheExpert
- 28-Jan-16 @ 12:17 PM
I have Occipital Neuralgia and just had the injections. Meanwhile scalp tenderness still dusts. Do I use heat or gold compresses?
Dot
- 27-Jan-16 @ 5:47 PM
Hi, for the past few weeks there has been a spot on the upper left side of my forehead that when i scratch, rub or catch sends like a twanging sensation from that point and in a line about inches over my head, like im moving a nerve, tendo or vein. What could this be? Thank you anyone for your help x
Nicky85
- 15-Jan-16 @ 2:59 AM
@Ioh - Any type of tingling, burning, or numbness may be a symptom of a nerve being trapped, or damaged. However, I suggest you see your GP if the sensation is chronic, in any way uncomfortable, or if you are having to take painkillers.
HeadacheExpert
- 22-Apr-15 @ 10:59 AM
I have prickly pain on my scalp most days It's worse in cold weather & especially when windy Apart from taking painkillers has anyone any suggestions for treating this I would be grateful for any natural remedies Many thanks
Ioh
- 20-Apr-15 @ 10:52 AM