Head Injury: Signs That There Could Be Brain Damage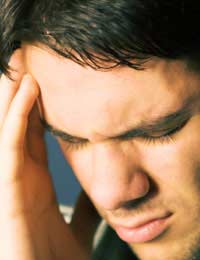 Everyone knows that a head injury can be serious but the phrase 'head injury' conjures up images of a bad car accidence, a motorcycle hitting a car pulling out of a junction, someone falling downstairs, with lots of obvious blood and an unconscious victim.
However, as the death of Natasha Richardson in March 2009 showed, a fatal head injury can result from what appears to be a relatively minor fall, it doesn't have to be a traumatic head injury. The actress was having a skiing lesson when, according to reports, she slipped and fell onto the snow. Not a particularly bad fall and she felt OK enough to send away paramedics who were prepared to check out all people experiencing a fall. It was only a few hours later that her condition deteriorated and she died less than two days later.
The problem is that a fall can jar the brain against the inside of the skull, causing a tear in one of the arteries, which is what happened in Miss Richardson's case. She died from bleeding in the brain, with the blood coming from just a small tear in an artery, a condition known medically as epidural haematoma.
Dangers Signs to Look For
The death of such a famous actress from an apparently minor fall and a mild head injury has done much to raise awareness of the dangers of even minor brain injuries. Blows or knocks to the side of the head, particularly at the temples should always be checked out. In anyone who has fallen and hit their head, it is not safe to assume just because they didn't become unconscious or shown signs of obvious concussion that they are ok. In the hours and days following the accident, the important thing is to be very aware of any changes in the person's health or behaviour.
Danger brain injury symptoms include feeling confused, dizzy, feeling or being sick and having a headache. Any of these could be unrelated to the head injury but they could also be a sign that something is going on inside the skull and that pressure caused by fluid leakage is building up. This increasing pressure can also cause excessive drowsiness as the sleep centres of the brain are affected.
It is vital to always take someone to a casualty department if they have been drinking alcohol at the time of the accident, they are taking drugs to thin their blood or if they are very elderly. Young people who get sports injuries should also be checked out. Any head injuries children sustain are potentially dangerous because their skulls are thinner and more delicate and can easily result in significant brain damage.
Timing Varies
In Natasha Richardson's case, her condition worsened within a few hours but someone with a head injury can seem OK for a couple of days and then deteriorate extremely fast. The press carried reports of a girl in the USA who had been hit by a baseball on the side of the head a couple of days before the actress' death was reported widely. The girl had seemed fine for two days but seeing the TV reports from Canada, her parents decided to check on her carefully as she went to bed. She told them she had a headache and they took her to the emergency department to be on the safe side.
This literally saved her life. At the hospital, the pain had become unbearable and she was airlifted to a special unit and operated on immediately. She survived and made a full recovery but if her parent's hadn't seen the news report and acted when they did, doctors think she would have gone to sleep and would have died during the night.
Check Ups do not Waste the Doctor's Time
For any head injury, it is wise to have a check at a hospital or a by a doctor or paramedic. There may be no obvious damage to the outside of the head but it is the damage that is invisible that can lead to someone fighting for their life within hours.
You might also like...