Are Migraines Linked With Stroke?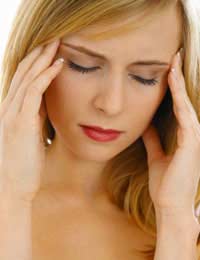 Several recent studies have shown that people who have strokes are not as healthy before their stroke as they felt. Many have evidence of previous mini strokes, or transient ischaemic attacks, that have left small, damaged areas in their brain tissue. Around 30 per cent of patients in one study had small, 'silent' brain lesions that show they have suffered a tiny blood clot in the past. Most of them were relatively young – aged somewhere between 18 and 50 years old, and a significant proportion reported suffering from migraines.
Other risk factors that made it more likely that there were many small areas of damage in the brain included age – they were more common in people over 40 – and a history of hypertension (high blood pressure), angina, heart attack, migraine or atherosclerosis.
Migraine With Aura
The link between stroke and migraine is a very contentious but interesting one. It is not yet known for definite how the two are connected. Do strokes happen more often in people who suffer from regular migraines because the migraines damage the brain and make it more likely for a stroke to occur? Or are people who are more prone to strokes, suffering from an underlying problem with the blood vessels in their brain that makes it more likely that they will have migraine?
On observation that seems to be important is that the association between stroke and migraine is only significant if the migraine is preceded by an aura. A proportion of people who experience migraine have a warning just before the actual headache begins. This can take the form of a strange 'feeling' or the person affected can see flashing lights and shapes in their vision. Migraine sufferers who usually have migraine with aura are more likely to have a stroke at a relatively young age, which has suggested to some researchers that the aura is a sign that the brain is being damaged by the migraine attack.
Prevent Migraine to Prevent Stroke?
The studies that have been carried out to date have been in a relatively small number of patients – hundreds but not thousands – so it is difficult to be certain that there is a true link. If further studies corroborate the evidence collected, this will make it much more important to provide better care for people with migraine, particularly those who have frequent attacks and who often experience an aura. Taking preventive medication to cut down the number of attacks could help to prevent some of the small areas of damage to brain tissue and blood vessels, and so lessen the risk of a major stroke.
Women Particularly at Risk
One of the studies released in the last year suggested that women who have migraine preceded by an aura are more likely than men to have strokes, even though they have the relative protective effect of female sex hormones. Women do tend to get migraines more often than men, but women with aura-type migraines are also four times more likely to have a stroke than other women who don't have migraine. The risk is also worse in women who take the oral contraceptive pill, perhaps suggesting that women who experience frequent migraines and aura should discuss a different kind of contraception with their doctor.
Strokes and Migraines at Different Times
It is not likely that the pain of a migraine brings on a stroke. The studies all indicated that strokes, even mini strokes, tend to occur between migraine attacks, not during an attack. If brain blood vessels are being damaged when the sensation of an aura, or the flashing lights, are experienced, it is possible that this takes a few days to cause a change in circulation that is significant enough to cause a clot to form in one of the larger brain blood vessels.
Although there are many uncertainties, one thing that doctors agree on is that people who have regular migraines, and perhaps symptoms of having had transient ischaemic attacks, should try to reduce their cardiovascular risk factors as much as possible. That means losing weight, maintaining a healthy weight, giving up smoking, eating healthily, drinking alcohol at a safe level, and taking regular exercise.
You might also like...
Why do i often wake with a headache which may quickly escalate to a migraine?
RachelG
- 7-Apr-18 @ 5:02 PM