Drinking Water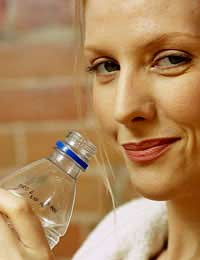 Dehydration refers to a condition where the amount of water your body is losing exceeds the amount of water you are consuming. Headaches are common within the general population and many experts suggest that dehydration is often the overlooked culprit of chronic headaches. The human body is approximately two-thirds water and high water losses can lead to dehydration. Adults generally should be consuming 2.5 to 3 litres of water each day. Drinking the commonly referenced value of 8 cups of water is the minimum a person needs each day without taking into account other factors that increase losses.
Gauging dehydration by thirst is usually a poor method because thirst is typically not the initial or only symptom experienced when a person becomes dehydrated. In addition to your headache, other symptoms you may notice that indicate dehydration are:
Exhaustion and fatigue
Dryness in skin and mouth
Dizziness
Fainting
Weakness
Fast heart rhythm
Cramping or aching in muscles
If you have been experiencing vomiting or diarrhea due to a flu or stomach bug, then try to slowly sip water to prevent dehydration and headaches. You may not feel well enough to eat any foods but it is vital that you replenish the water losses through vomiting and diarrhea. If you find that you are unable to keep water down, then it is important that you see your doctor immediately, as severe dehydration can be quite dangerous or even fatal.
Alcohol
Alcohol is a diuretic and this means that it causes the body to lose water. You will probably have noticed that when you consume alcohol, you have to urinate more often; this results from the diuretic action of alcohol. Dehydration from consumption of alcohol also impacts nutrition because it causes potassium losses from the body, leaving a person with the characteristic signs of dehydration, such as thirst, cramped muscles and dizziness.
Summer Heat
Hotter weather means more sweat and this can result in high water losses, which must be replaced to prevent dehydration. Dehydration from summer heat combined with the high temperatures themselves can leave an individual with an intense, pounding headache. Be sure to consume extra water when on vacation in a hot climate or during extreme heat over the summer months. Wearing a hat and spending time in the shade can keep you cooler and prevent excessive sweating as well as provide other additional benefits such as skin protection from the sun's UV rays.
Increased Physical Activity
Simply put, the more you sweat, the more water you will require to replace losses. Any physical activity will likely mean that you must consume additional water to prevent dehydration and subsequent headaches. Children in particular are prone to dehydration during sports and active play. If your child is complaining of daily headaches, it may be due to dehydration.
Ensure that your child is encouraged to make drinking water a regular part of his or her day. Filling a large bottle with water that your child keeps on hand is helpful and you can choose a colourful bottle with pictures to make drinking water more appealing and less of a chore. If you know that you will be partaking in intense physical activity, start hydrating early on in the day and continue to consume water or sports drinks during and after the exercise or activity.
Although drinking water is a quick and obvious way to ensure adequate water intake, it is a myth that a person needs to drink plain water to obtain sufficient water each day. Many foods contain water and juices and teas also contribute to your daily water requirement. Fruits and vegetables tend to have high water content so try to consume both on a daily basis. Keep in mind that caffeinated drinks such as black teas, coffee and colas are diuretics, which promote water loss, so excessive consumption of these fluids can encourage dehydration and headaches. Generally, minimal amounts of caffeine will not result in dehydration provided sufficient water is consumed otherwise.
Monitoring the colour of your urine is a good way to tell if you are dehydrated. Urine that is dark in colour, concentrated and has a strong odour usually indicates that water consumption is not adequate. Clear and odourless urine is generally an indication that fluid intake is sufficient to meet your body's needs. It may seem like an odd method to determine water intake by observing your urine but by aiming for clear, less concentrated urine and being observant of the other signs of dehydration, you can ensure that you obtain enough water to avoid the unpleasant headaches that result from dehydration.
You might also like...