Coping With Holiday Headaches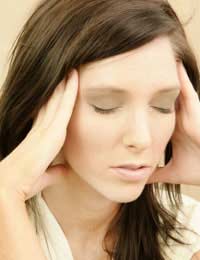 Everyone looks forward to holidays regardless of whether they are travelling away from home or not. A long Easter Weekend, the Christmas and New Year break with friends and family, and a trip abroad for skiing or for relaxing in the Sun are highpoints in the year for most of us. Relaxations is, however, mixed with some tension and frustrations and the mix of breaking with routine, eating and drinking differently, staying up late and having too much Sun can all lead to headaches. Here we look at a few tips for coping well with holiday stresses and avoiding holiday headaches.
Avoiding Stress and Tension Headaches
Organising the family to travel abroad for a summer holiday can be stressful, particularly for parents. Getting frazzled and staying up late packing the night before a holiday after rushing in from the last day of work is a bad start to any holiday. Having too little sleep, an early start, long hours of travelling and snack meals are all triggers for headaches in most people and this can make the stress worse and will cost you the first few days of your holiday as you try to recover. Taking a bit of extra time to plan and do things in advance is easier to say than to do but it really does work.
If you can, finish work a day earlier than you had planned to, or put aside a day at the weekend before you travel to sort out all of the packing for the family. Get everyone to help by sorting out clothes to take and make a clear area in a bedroom, spare room or relatively unused room such as a dining room and organise piles of clothing and outfits. Some people find lists helpful, but having some sort of system is better than having none. If in doubt, take less than you think you will need.
Once the packing is organised try to make sure you have plenty of time to have an early night and plenty of time to travel. If there is more than one driver in the family, share the driving to the airport or ferry. Take bottled water from home to drink before you have to go through the security, and then buy more water once you get through. Although it's tempting to start a holiday with a large glass of wine or two, or pints of lager, alcohol and flying both tend to dehydrate the body, making a headache to start the holiday much more likely.
Sun Stroke and Heat Stroke
If you are going somewhere hot, bright Sun and the glare from water can give you a headache quite quickly, so take a good pair of sunglasses or buy them once you are there. Keep drinking plenty of fluids (not just alcohol) and keep out of the Sun in the hottest part of the day. Headaches, nausea and vomiting are common symptoms of mild heat stroke and sun stroke, and you will need to stay in the shade and rest, taking in plenty of water to recover.
Eyestrain Headaches
Eyestrain from the Sun is not just a problem when you are on a summer holiday in an exotic location. The glare from snow when you are on a winter skiing holiday is particularly bright and effective sunglasses and protective goggles are even more essential.
Bumps and Knocks
Wherever you go away on holiday, take care that any bumps to the head are not ignored. Slipping by a swimming pool, taking a tumble when skiing can all cause concussion. A headache that comes on after even a minor injury should always be checked out, particularly if it is followed by nausea and vomiting.
Headaches and Holidays at Home
Christmas and New Year celebrations always involve eating very rich food and drinking too much. Hangover headaches are very common, but many people find that they have a dull headache after a few days even if they don't overdo the drinking. Being inside, not getting any fresh air and exercise, and just overindulging can be enough to bring a headache on. Even if the weather is bad, taking a half hour walk each day and taking a couple of days off between the celebrations to eat lighter food and drink plenty of water can keep you on top form.
You might also like...