Headaches Caused By Infection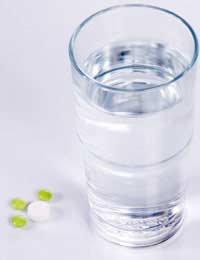 If you are experiencing a headache for the first time and are also suffering from a diagnosed infection it is very likely that your headache is caused by the infection itself. The effects of an infection can be broad and may directly or indirectly cause headaches and migraines.
Viral Infections
Most people who have suffered from influenza, more commonly called the flu, have likely dealt with painful headaches that often occur alongside the viral infection. A flu virus itself often causes a headache due to the resulting fever that occurs. The various components of the immune system that react to the virus can trigger a painful headache. You may also experience headaches from upper respiratory infections such as the typical cold virus, which causes nasal congestion and may also affect sinuses, thus prompting sinus headaches.
In some instances, an otherwise benign viral infection can prompt chronic headaches. It is thought that the body is somehow oversensitive and reacts excessively to an immune stress resulting from the infection. Headaches may be exacerbated by overexertion and generally, bed rest and a lighter daily schedule will allow the body to heal and headaches should decrease. Non-steroidal anti-inflammatory drugs are also helpful for easing headache pain and can help to decrease any fever as well.
Encephalitis and meningitis are viruses that affect the brain and both may cause severe headaches. The membrane surrounding the brain usually becomes extremely inflamed and prompt medical attention is imperative. Any inflammation that occurs in the brain from infection can put intense pressure on nerves and may ultimately be fatal. Headaches can also indirectly be caused by sinusitis, which occurs when the nasal lining becomes inflamed and irritated, often from an infection.
Bacterial Infections
Bacterial infections such as those involving streptococcus may also cause headaches. Women who have frequent urinary tract infections and take antibiotics such as ciprofloxacin may find they experience more migraines. The general malaise, stress and muscle tension throughout the body can trigger pressure around the temples and pain around the head. Your doctor will most likely prescribe antibiotics to treat the bacterial infection. Unfortunately, many antibiotics can also temporarily exacerbate headaches or prompt new ones but once your infection is eliminated and antibiotics are halted, you will likely return to your headache-free self.
Some studies have suggested that helicobacter pylori bacteria contribute to migraines but there is still not enough evidence to definitively prove a causative relationship. Helicobacter pylori bacteria are believed to have some involvement in gastric ulcers and their link, if any, to migraines is still tentative. It is thought that treatment with antibiotics can eliminate the infection and subsequently relieve migraines.
Any eye and ear infections can put pressure around the face and head, resulting in muscle aches and pains and leading to headaches. Ear infections can occur at any age but are common in children. Antibiotics may be considered only if bacteria cause the ear infection; antibiotics can't eliminate a virus. Some doctors prefer to wait and give the infection a chance to absolve on its own. Usually headaches will stop once the infection is treated. In the meantime, over-the-counter painkillers can be used on the advice of your doctor. Supplements that have been suggested for strengthening immunity, treating infections and reducing headaches are ascorbic acid and zinc but the effectiveness of vitamin and mineral supplements is still under debate.
When in doubt about whether an infection is causing your headaches or migraines, see your doctor. If your headaches began at the same time as your infection, it is likely they are related and prompt treatment should ensure that your infection clears and your head pain is relieved.
You might also like...
Question I recently had taken sti antibiotics for one week after that's about a week from the last day I took the pills I start getting a headache and sore throat it's been almost a week I had the headache pain constly could this be in results of the antibiotics ? I got test again all negative
Mr.brown
- 11-Jul-18 @ 1:06 AM
I'm having lightheaded and can't stand up been in hospital they done all the test MRI ct scan all clear had a really bad attract had to get a ambulance to get to hospital they still don't know what's causing it gave me stemitel one doctor thought it could be a migraine virus as I had a bad city three months ago hope you can help I can't drive as not sure when it will happen as I have to lie down flat can't lift my head up thank you
Lou
- 11-Jun-18 @ 10:42 PM
gavvy - Your Question:
Why there is too much headache for many days after viral infected and diagnosed.??
---
Our Response:
If your symptoms continue to persist after your viral infection has gone, then you should make a further appointment with your GP. Headaches can also occur if you are de-hydrated, therefore make sure you are also drinking enough fluids. I hope it feels better soon.
HeadacheExpert
- 22-Sep-15 @ 1:39 PM
why there is too much headache for many days after viral infected and diagnosed...??
gavvy
- 21-Sep-15 @ 4:51 PM
my partner had a gash to the head around 10 weeks ago.he gets a pain every now and again.how long does this generally last?
yellow
- 25-Mar-13 @ 12:32 PM
Your article confirms my suspicions about my sister's lifelong severe migraines.She has taken anti-viral and antibiotics several times in her life and each time it stopped the daily headaches for more then 5 weeks at a time.Nothing else would stop the pain.So infection means weak immune system. Changing diet and eliminating foods that contribute to gut imbalance would stop the headaches at the source.
Julie
- 20-Oct-12 @ 6:27 AM
Thank you so much for posting this information. Very interesting and helpful to my situation. I was not aware of half of what I just read and now you have expanded my knowledge. Thank you so much.
STAR
- 16-May-11 @ 9:04 PM