Headaches? Check The Lighting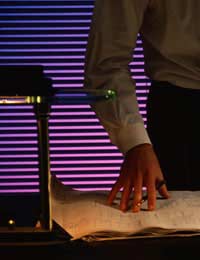 Many headache and migraine sufferers are extremely sensitive to light. Lighting can be especially frustrating to deal with because a headache sufferer simply can't live in the dark! Bright lights and glare are more likely to trigger migraine headaches when they are of a 'flickering' quality and a slow flicker is usually more irritating than a fast one. Flickering light is also reflected on snow, sand and water as well as through clouds. Any glare from these sources may further trigger a headache.
Sun
Migraine headaches may be prompted by bright lights as well as reflected lights from the sun. Some people who experience migraines from the sun and its ultra-violet rays often become photophobic and thus avoid sunlight. Headaches may be so severe and/or frequent that the person therefore eliminates the sun completely. Unfortunately, complete avoidance of sun can lead to other problems with health, such as vitamin D deficiency, and it is recommended that you speak to your doctor if headaches are prompting you to avoid sunlight.
Fluorescent and Incandescent Lighting
Sunlight consists of energy from across the entire light spectrum whereas artificial light from incandescent lighting (conventional light bulbs) and fluorescent tubes contains only a narrow part of that spectrum. Fluorescent lighting or the light that flickers from television and movie screens has been linked to painful migraines. Comparatively, fluorescent lighting is also more likely to cause problems than incandescent lighting.
What Can You Do?
Since ultra violet rays not only can cause migraines due to the light sensitivity but also contribute to a range of eye diseases such as macular degeneration and cataracts, it is wise to invest in some good quality sunglasses. Also, studies have suggested that those who experience migraines are more likely to have eye problems in conjunction with the disease, and this strengthens the case for investing in protective eyewear. The quality of the sunglasses is important and it is recommended that you spend the most you can afford for high quality sunglasses to protect your eyes and prevent headaches. When choosing sunglasses, ensure that the optical grade is adequate. Polarized lenses are an option to consider, as they help to reduce glare.
There are also those who are highly sensitive and will experience migraines from most forms of light. This means that all types of light, including normal lighting conditions such as indoor lighting, dimmed lighting and even the light from a candle, can trigger an attack. It is wise to address those lighting sources that have the greatest effect, since it isn't feasible to eliminate all sources of light. This won't stop all of your headaches, but it can reduce the frequency of them. Avoiding direct sunlight and excessive forms of indoor light may be helpful.
Managing Lighting at Work
Glares from computer screens and incandescent lighting, as well as the flicker from fluorescent lighting can be a nightmare for migraine sufferers. Office lighting can also be particularly difficult to address because a person's flexibility may not allow for adjustments. Try adjusting your computer monitor or attaching a glare screen; this should help to reduce the glare and prevent a migraine attack. You may be able to turn off certain lights or adjust their placement, or your own seating.
The flicker quality of fluorescent lighting makes it challenging to tackle, so it is preferable if you're able to substitute other forms of lighting. It's important to obtain enough light to effectively maintain your work quality and prevent eyestrain without compromising your need to reduce the lighting conditions that trigger headaches. Note that older, 'magnetic ballast' flourescent-fittings will give off flicker, but newer, 'electronic ballast' (at least good quality types) lights will not give off visible flicker. The choice of tubes used in the lights also makes a difference, with respect to the quality of light. These vary a lot between the cheapest tubes and the best 'full spectrum' types.
For your health and safety, however, it is wise to discuss any major lighting changes with your boss and co-workers. This will ensure that everyone can work comfortably under adequate lighting conditions.
You might also like...