Hormone Headaches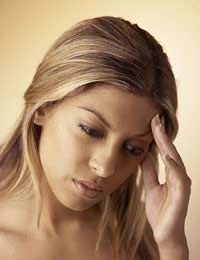 Women experience headaches on average, far more often than men and this is thought to be due, in part, to the role of hormones. Hormone headaches are linked to the reproductive cycle as well as the effects of oestrogen. Fluctuating oestrogen levels and any other unstable hormone levels can trigger headaches for many women.
Menstruation and Menstrual Migraines
Many women suffer from headaches as part of premenstrual syndrome (PMS) and find they are virtually headache free for the remainder of the month. The drop in oestrogen levels is thought to trigger painful headaches for some women. Another hormone headache that women may suffer from is called a menstrual migraine, which tends to strike during the second day of menstruation and remains until menstruation is finished. Non-steroidal anti-inflammatory drugs (NSAIDS) such as ibuprofen are available over-the-counter and many women will experience enough relief so that prescription medications aren't necessary.
If you are able to take a mild painkiller at the first sign of a headache or migraine, this is often sufficient enough to reduce the intensity of the pain. For women who have regular menstrual cycles each month, it may be easier to predict when a headache will occur and an over-the-counter pain reliever can be used for the few days leading up to menstruation.
Pregnancy
The challenge in treating headaches during pregnancy is that many drugs are teratogenic to a foetus. Care has to be taken to treat the headaches without causing harm to both mother and child. Many women will, however, find that their headaches improve during pregnancy and this can be a welcome relief. Women who do still experience headaches or migraines can generally take acetaminophen on the advice of their doctor. Any formulations with caffeine should be approached with caution.
Menopause
Many women experience a major improvement in headaches during menopause although stress and tension headaches may become more bothersome. Women who take synthetic hormones sometimes find that this intensifies headaches although others find an improvement. If you find that your headaches are the same following menopause, you should generally maintain the treatment plan that was in place prior to menopause. This means that any lifestyle adjustments you had made should remain and medication can likely continue. If you find that your headaches are worse, you may need to try another prescription medication or perhaps adjust the dosage; your doctor can decide if this is appropriate for you.
Because stress and lifestyle can influence hormone levels quite a bit, hormone headaches are often ones that respond quite well to non-drug treatments. Anything that promotes relaxation, such as deep breathing exercises and massage, can be particularly beneficial. Some women find that acupuncture brings relief and others will find exercise such as yoga to be helpful. The important thing is to try different alternative methods to find one that suits your needs best and you may need to use a combination approach to hormone headaches, which includes both relaxation therapies and medication.
Although changing hormone levels do influence headaches, you are not controlled by your hormones and certainly should not be a slave to them. Communicate with your doctor about headache and migraine concerns and together, you should both be able to find a preventative treatment plan that works for your head pain.
You might also like...
I am having headache after sleeping and it is very painfulAfter awakening also I am feeling severe headache. This headache continuously for more than one month.kindly advise
nimi
- 20-Dec-15 @ 5:24 AM