Keeping a Migraine Diary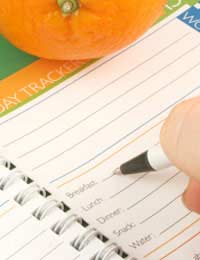 Migraines and headaches can sometimes follow certain patterns, which are dependent on what are known as 'triggers'. These triggers – although often shared by headache sufferers – are typically unique in that your own collective triggers and type of headache will be an individual challenge. Some people decide to keep a migraine and headache diary to help them find the triggers that seem to set off the cascade of physical effects leading up to a headache or migraine. For one person, it might be a certain food while for another, it could be stress-related. Still others might find that their headaches are set off by perfumes or similar fragrances.
Starting Your Diary To Identify Triggers
If you have considered a migraine or headache diary, you might feel overwhelmed wondering where to possibly start. Starting up the diary may be your first step in learning to manage your headaches or you may have exhausted all other efforts to prevent and treat headaches – perhaps you are now ready to pinpoint your personal triggers. To accomplish this task, you will need to keep the diary with you at all times, which will allow you to accurately record when your headaches or migraines occur as well as how long they last.
Creating a Personalised Migraine Or Headache Diary
To create your own personalised migraine or headache diary, you should have a full sheet of paper for each day. Consider creating the diary on your computer in a Microsoft Word document. This will allow you to make your own template that can print off and fill in each day. Important aspects include the time the headache began and when it ended. You should also make note of any warning signs such as whether there was an aura if you experienced a migraine. Try to be detailed about where the pain is located and what type of pain you experienced. Some people may have throbbing headaches while others will feel a constant pressure on their head. Also important is the intensity of the pain itself. Consider using a five-point or ten-point scale to describe and record the level of pain.
Ask yourself: Do I have any other symptoms? You might experience nausea or sensitivity to light, for instance. Take note of any medications or similar treatments you are taking, particularly if you take them on a regular basis. Many drugs can cause headaches or trigger migraines. Think about how much sleep you get each night and what you ate or drank shortly before experiencing the headache or migraine. It could be that caffeine or food additives are triggering head pain.
Another important aspect of your life that should be noted is whether you experienced any stressful events during the day. If you find that head pain seems to occur after an argument or other stressful event, you can be proactive and take steps to deal with stress before it causes headaches. Try to leave a bit of a blank space to add any additional comments or thoughts on your headaches or migraines for that particular day. Sometimes, it can be a random insight that seemingly comes from nowhere, which can help you to find what is triggering your headaches or migraines.
Becoming Free Of Headaches And Migraines
With your new headache and migraine diary, you will hopefully soon be able to keep a record to identify your own personal triggers. Once you have done so, you can try to eliminate or reduce your exposure to triggers. Some triggers may be easier to avoid, such as low blood sugar. In this case, you could ensure you eat regular, healthy meals and that you don't go too long without at least a snack.
Other triggers may be more difficult to avoid, such as people in the workplace who wear strong perfumes. While many workplaces now recognise that people can be sensitive to fragrance and thus, they operate policies of scent-free products, the vast majority still need some 'modernising'. You can always speak to management and suggest a scent-free policy. Whatever your trigger, by taking the time to use a headache and migraine diary to identify your challenges, you can take action and soon reduce the frequency and severity of your headaches or migraines.
You might also like...