Putting Together a Headache Treatment Kit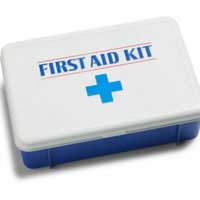 Despite many of us having various treatments for our headaches – prescription or otherwise – few people will take the time to create a comprehensive headache treatment kit. Not only can a kit be important for locating headache treatments rapidly when needed, but it can also serve as a convenient way to access treatments during travel away from home. Your headache treatment kit should ideally contain some of the common remedies for headaches along with your own prescription drugs and any alternative treatments that can relieve your headaches or migraines.
Simple And Useful Remedies For Your Headache Treatment Kit
Particularly for travel, a comfortable eye cover can help if a headache or migraine strikes. Consider including one to help with the pain from bright lights when a headache hits. You can also include any calming music or sounds that help for headaches related to stress and anxiety. Over-the-counter pain relievers such as acetaminophen or ibuprofen can help to relieve mild to moderate headaches.
Including Alternative Therapies In Your Headache Treatment Kit
You can keep a useful array of alternative treatments in your headache treatment kit, including homeopathic treatments and aromatherapy oils. Oils such as lavender and eucalyptus are thought to be helpful for headaches and muscle tension as well as for promoting relaxation.
For people who suffer from conditions such as anaemia – where headaches are a symptom – they may want to include their iron supplements in their headache treatment kit. If you have daily affirmation cards or other written positive statements that help you to ease stress and tension, then these are helpful additions to your headache treatment kit. They can be readily available if you feel particularly stressed and sense a headache coming on. Sometimes, deep breathing exercises and positive thinking can reduce the intensity of head pain.
Personalising Your Headache Treatment Kit
Personalising your headache treatment kit will involve adding your prescription medications such as ergot medications or triptans. If you suffer from migraines, make sure that you include any anti-nausea medications. You might also want to include additional instructions for dosing, which ensures that you have the information on hand when needed. Elderly and those with vision difficulties should always read their prescriptions when wearing their prescription eyewear. Also, be sure that you are reading the information in a well-lit area, which helps prevent confusion about directions and medication overdose.
Headaches can affect most of us from time to time but for people who struggle regularly with headaches or migraines, it is necessary to be well prepared for head pain that strikes, especially if you are not in the comfort of your own home.
You need to not only have your headache treatment kit rapidly accessible when in the home, but nearby when travelling to minimise the pain and the difficulty of being in discomfort around strangers. By taking a bit of time to create a headache treatment kit, you will ensure that your medications and other treatments can be taken right away – allowing them to perform as they were intended, which means treating your head pain.
You might also like...