Telcagepant: A Promising New Migraine Treatment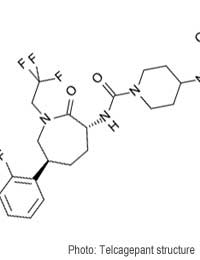 Millions of people in the world suffer from a headache every day of the year. Many have a migraine headache which has a typical set of symptoms – pain on one side of the head, nausea and vomiting, an aura that comes before the headache. Each attack can last for 24 hours and people who suffer from very bad migraines get more than five in a week.
Any news of a new migraine treatment is very welcome and in March 2009, migraine sufferers learned of a promising new treatment developed by the Mayo Clinic in the USA. Migraine headache affects around 30 million people in America, many of them female, so it is a huge problem.
Normal painkillers that non-migraine sufferers take for mild headaches have very little effect against a full migraine attack. Many people get migraine relief from drugs based on compounds called triptans but these can't be used by people who have any form of heart disease. The danger is that the action of the drug will constrict blood vessels in the heart, causing severe problems, is too much of a risk.
New Migraine Treatments Need Careful Testing
Researchers from the Mayo Clinic were well aware of this and when the identified the drug Telcagepant as a potential migraine treatment, they started a large international clinical trial to see if it worked well and to make sure it was safe.
Their research efforts were published in the The Lancet, a leading UK based medical journal. The overall conclusion is exciting for people who experience migraine symptoms on a regular basis because the results show that telcagepant works very well to reduce pain and nausea but its side effects are much less severe than the currently used triptans.
Details of the Migraine Treatment Study
The study was carried out on 1380 people, many of whom (85 per cent) were women. During a migraine attack, as the pain became severe, people in different groups took either the new drug telcagepant, a placebo drug containing no active ingredient or zolmitriptan, one of the established triptan-based migraine treatments. Migraine sufferers were tested after 2 hours and after 24 hours to see what they pain was like and if they had experienced any side effects. These were common adverse effects such as feeling sick or becoming very sensitive to light or sound.
Results of the Migraine Treatment Study
Both the new drug telcagepant and the established drug zolmitriptan were equally good at controlling pain, and a lot better than the placebo. However, the new drug did better with regard to the side effects that it had. Just over half of patients taking the triptan drug had side effects such as dizziness, fatigue and feeling very tired, having a dry mouth, nausea, throat or chest tightness, hot flushes or a tingling or numb sensation in the limbs.
In contrast, only 34% of people taking telcagepant reported side effects but these still included feeling sick and tired, having a dry mouth and experiencing insomnia. Overall, telcagepant did not cause as much nausea as a side effect and people taking it were less likely to experience sensitivity to light or sound.
Good News for Those With Migraine
The prospect of a new drug that has fewer side effects is obviously very good news generally for people who suffer from migraine attacks. But the doctors running the trial say it could be particularly good news for people who don't respond well to triptans and other drugs currently used in migraine treatment. Because the new drug works in a different way, people who find triptans don't suit them could get a great deal of relief from their headaches by taking telcagepant – and suffer fewer side effects.
You might also like...