Migraines and Coexisiting Illness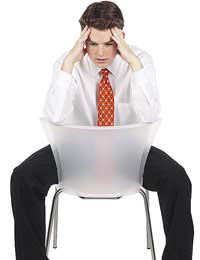 A co-existing disorder means that there are several medical conditions occurring simultaneously. Headache and migraine sufferers can have various co-existing health ailments such as anxiety cardiac disorders or numerous other problems.
Such conditions may be linked or totally independent of one another. Depression and stress disorders have been linked to migraine, but other disorders are entirely independent and simply exist at the same time. In addition, health conditions that affect hormones, for example, may intensify migraine attacks.
Physical Conditions
Disorders such as epilepsy or stroke may co-exist with your migraines as well as many diseases that are cardiovascular based. Allergies, asthma and bowel disorders such as irritable bowel syndrome and Crohn's disease may also be present. In particular, diseases of the gastro-intestinal tract can be troublesome when they occur in someone who suffers from migraines, because of potential food triggers.
You may find that after adjusting your diet to address digestive discomfort, you then have to make further adjustments to avoid foods and food additives that trigger your migraines. To ensure you do not limit your diet too extensively, it may be wise to obtain a referral from your doctor to see a dietitian, who can ensure that you meet all of your nutritional needs while still dealing with your medical conditions.
Psychological Conditions
Some of the psychological disorders that may exist with your migraine are those involving depression or anxiety. You may suffer from panic attacks as well and it may be particularly difficult to garner the motivation to see your doctor for treatment of both your migraines and depression. There is evidence to suggest that migraine sufferers are more likely to become depressed due to the strain of handling headaches. On the flip side, those who are depressed are more likely to suffer from migraines, often due to the stress and anxiety as well as lifestyle factors present each day.
Treating Migraines and Co-existing Conditions
There are medications available that are capable of collectively targeting co-existing conditions and migraines at the same time. Various anti-depressants as well as seizure and blood pressure medications have positive effects on migraines as well.
Some medications can be helpful to a specific condition but may then cause ill effects in another one. Beta-blockers, for example, should not generally be prescribed for migraine treatment in a patient who is also an asthmatic. If a drug is likely to be beneficial for two conditions, it should remain the preferred choice as oftentimes, the more drugs used, the higher the probability for side effects. It can also be difficult for patients to keep track of multiple medications as well as their dosing schedule, so any potential to alleviate these frustrations through drugs targeted for two or more conditions is ideal.
Treat all of Your Health Conditions
It is important that you do recognise all of your health conditions and that you don't focus on any one condition at the expense of others. Treating health issues beyond just migraines will clearly be more complex and time-consuming than treating only migraine headaches. You will need to discuss your lifestyle and symptoms with your doctor and together you can meet your treatment goals.
Some people are fortunate in that they do not experience any conditions other than their migraines, which are painful enough as it is. Other, however, will find that they have multiple medical conditions to address alongside their migraines. It can be quite exhausting to attend to many health problems but there are treatment options available and you may be able to streamline your treatment regimen with drugs or alternative therapies that alleviate pain for more than one condition.
You might also like...