Migraines With and Without Aura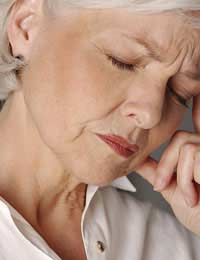 Migraines are very painful headaches where the pain tends to be on one side of the head. They can be disabling and may severely disrupt the sufferer's life. The two main forms are migraine with aura and migraine without aura. Both types usually involve pain in the front of the head, around the eye and temple regions.
Migraines With Aura
A migraine with aura is also known as a classic migraine and involves very specific warning signs. An aura involves neurological cues that are evident anywhere from ten to thirty minutes before the onset of a migraine attack. The aura is believed to be caused by the constriction of blood vessels in the brain. In a classic migraine, the pain is usually intense and can last for one to two days. A person may experience tingling in their head and face as well as intense throbbing head pain. An aura may also develop before head pain occurs or afterwards. Migraines with aura also tend to have some or all of the following symptoms:
Blind spots
Zig-zag or wavy lines
Flashing dots
Blinking lights
Vision loss
Distorted vision
Blurred light around object edges
Speech difficulties
Alterations in shape and colour perception
Various other forms of migraines may have an aura but one that is not visual. A retinal migraine may entail complete temporary vision loss, and pain centred around one eye. A basilar artery migraine tends to cause the sufferer to feel dizzy, confused or nauseous. This type of migraine is generally more common in young women and has been linked to hormone changes throughout the month. Ophthalmologic migraines, like a retinal one, involve pain centred over one eye and the muscles around the eye may even become paralyzed. Although an ophthalmologic is not a common type of aura migraine, it can be a medical emergency.
A status migraine is a potentially very dangerous one where the pain lasts for more than 72 hours. The severity of the pain may mean the afflicted person requires hospitalization. This type of headache can be triggered by various chemical or environmental toxins or may occur as a result of medication withdrawal. An acephalgic migraine can also occur, and this does not include headache pain, but does include visual disturbances and other symptoms such as digestive discomfort. This type of migraine is commonly called a 'headache-free' migraine since it lacks the head pain that is characteristic of most migraines.
Migraines Without Aura
A migraine without aura is also known as a common migraine and it affects more migraine sufferers than a migraine with aura. This type of migraine does not have the same warning signs as a migraine with aura. In addition, it may start more slowly than a classic migraine with aura. Migraines without aura usually have less specific symptoms such as:
Fatigue
Generalized head pain
Anxiety
Mood changes
Mental confusion
Nausea, vomiting or diarrhea
Having a list of symptoms when you first visit your doctor may be helpful for him or her when determining which type of migraine you have. This will allow for a personalized preventative treatment plan based on your symptoms and the type of migraine you experience. You may also suffer from more than one type and your doctor will suggest ways to manage the pain with each one.
You might also like...