Prolonged Migraines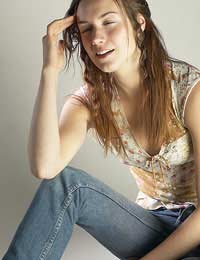 The term 'prolonged' can refer to a long-lasting headache episode or a prolonged period of time over which many headaches occur. Headaches alone can be quite painful but for those who experience prolonged headaches the pain can be even more distressing and exhausting.
On rare occasions, a prolonged headache may also indicate a serious ailment. They sometimes will occur following skull or brain injury and can be difficult to treat. If your headaches have recently started or are abnormally intense or long lasting, it is suggested that you see your healthcare provider.
Status Migraines
A status migraine is a prolonged migraine headache that occurs for more than seventy-two hours. If a migraine occurs over a long period of time, an inflammatory response is triggered. This form of headache can potentially be very serious and a sufferer may even require hospitalization. Vomiting may often occur and dizziness and visual problems may be present. One class of drugs that may be recommended are corticosteroids. These drugs have potent anti-inflammatory effects and can aid in alleviating the headache.
Intense pain and digestive discomfort such as nausea may accompany a status migraine. The various triggers for migraines may have stronger effects in some individuals, prompting a status migraine. You may wish to keep a headache diary to pinpoint those triggers that cause status migraine onset.
Although reducing triggers is a typical approach, elimination of a trigger may be required due to the extreme pain and intensity of a status migraine. It is thought that stress is a common trigger for status migraines and you may wish to seek out relaxation techniques or other coping mechanisms to address stress in your life.
Prolonged Chronic Daily Headache
Any prolonged or frequent headache is usually classified as chronic. A small percentage of people will experience chronic headaches; these daily headaches may last for many years. It can be frightening for those who do suffer from chronic headaches, as they may worry that a serious disease is causing the headache pain. Fortunately, this is not usually the case. Triggers such as dehydration, intense smells and allergies are thought to be common causes of chronic headaches so you may wish to try to identify and avoid these triggers. Medication overuse is also implicated in prolonged headaches and if you suspect this is the case, consult with your doctor immediately.
Unfortunately, prolonged headaches can really disrupt an individual's daily life. Maintaining work, home and social life can be a challenge and the stressful anticipation of lengthy headache pain itself can trigger a prolonged headache. The impairment of activities can also lead to emotional problems such as depression and anxiety. If this is the case, your doctor may ultimately prescribe anti-depressants.
Other medications commonly used to treat chronic headaches are over-the-counter preparations containing ibuprofen, acetaminophen or triptans. Counselling and support groups are other options for dealing with the emotional tension that may evolve from prolonged pain. Knowing that there are others who share your challenges may help you to learn new ways of treating your prolonged headaches and obtaining relief. If headaches are prolonged and frequent and are ultimately interfering with your day-to-day life, it is time to seek treatment.
You might also like...