Travel Tips for Headache Sufferers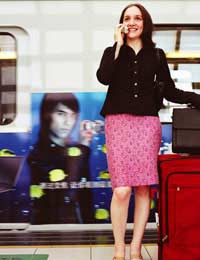 For some people travel is one big headache with regards to the stress and exhaustion of moving through several times zones. Others who have battled with headaches prior to travel will often find that the strain and bustle of travel leaves them with intense headaches or migraines. A sore head is a challenge in itself but when you're away from the security and comfort of your home surroundings, it can be more unpleasant to deal with headaches.
Stress
Crowds, noise, bright lights and delays are all small stresses that can add up to one big headache or migraine. Anything stressful can potentially cause a headache and bright lights and noises are notorious migraine triggers. These perils of travel are inevitable in most cases, so it's best to find ways to cope with the discomfort of travel stress. Be sure to pack sunglasses or a soft 'blackout' band to wear over your eyes. Not only can this help you to avoid glaring lights, but it can also help you to sleep. Look for ways to keep busy during delays. Grab a cup of tea, a bite to eat and a magazine. Some airports even have spa and massage services, so if you're willing to splurge a little, you may wish to obtain a massage. You will feel much more relaxed and may ultimately be thankful of the delay.
Sleep
Lack of sleep contributes to headaches and when it's prolonged, as it may be during travel, head pain can be quite frustrating. If you're not one of those lucky few who can sleep through the flight, try to obtain even a little bit of sleep by blocking out noise with earplugs, and avoiding any stimulants such as caffeine. The supplement melatonin has been suggested as a sleep aid for jetlag, but talk to your doctor before taking any supplements, even over-the-counter ones. Some of the standard anti-nausea medications that travellers use for motion sickness also have the side effect of drowsiness, so you may find that once your tummy has settled, you are pleasantly sleepy and able to have a nap.
Diet and Dehydration
For people who experience migraines, avoiding food triggers is often a major lifestyle focus. Airplane food is often loaded with food additives to preserve the food and these can prompt painful migraines. It's generally wise to bring your own food whenever possible. Don't avoid eating because low blood sugar can further exacerbate a headache. Keep a variety of healthy non-perishable snack foods in your bag for when you travel. Nuts are an excellent choice loaded with fibre, complex carbohydrates and healthy fats, as well as protein. Fruits and bite-sized vegetables are also an easy snack to transport and you can conveniently munch on these throughout your flight. Be sure to drink water frequently, as dehydration can cause headaches. It may be difficult, but try to avoid the temptation to have that glass of wine to help you relax. Alcohol influences blood sugar and causes dehydration; it also can lead to withdrawal headaches so do aim for non-alcoholic beverages whenever possible.
Pressure
Pressure changes can lead to airplane headaches. Both cabin pressure changes and altitude can cause severe headaches, particularly sinus ones. Swelling in the sinuses from pressure changes leads to physical pressure on surrounding areas in your face and triggers headaches. Ear pressure can also contribute to headaches and is a common complaint during air travel. To address pain from headaches, you can bring over-the-counter painkillers such as acetaminophen. These should provide relief although try to find one that doesn't include caffeine, as caffeine's diuretic effects can be particularly dehydrating during travel.
Get Moving
Sitting for long periods of travel, whether by train, airplane or car, can leave muscles all over your body feeling cramped, tight and sore. Airplane seats are hardly known for comfort and your shoulders, back and neck may become very stiff, leading to tension headaches. Sometimes, the effects of travel are felt for days afterwards; your neck and back area can remain tensed and you may experience a dull headache that never quite goes away.
Whenever possible during travel, try to take a little walk around. If you're driving, take regular stops, even if it's just for five minutes to walk in the fresh air and stretch your body a bit. On a plane, you can usually walk up and down the aisles every so often to release tension in your legs and spine. Trains are often less taxing on the body because there is more space to move and seats are not as cramped as those on an airplane.
There are even airplane yoga books and flashcards you can purchase-these provide simple, straightforward 'poses' you can perform on an airplane. Most are done from the privacy of your seat, so there is no need to worry about making a spectacle in the aisles.
With a little bit of prior planning, you can ensure your travel plans don't lead to headaches and migraines. This means less worry about head pain and more time spent enjoying your arrival in a new place.
You might also like...