Headaches and Eyesight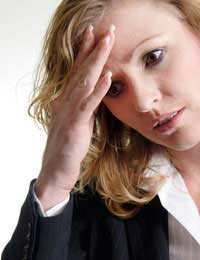 Eyesight and eye-related problems can be overlooked culprits when searching for headache causes. In fact, even people who wear corrective glasses may suffer from eye-related headaches. A person may falsely assume that wearing corrective eyewear means that their eyes are fine and therefore, can't be causing their headaches. Unfortunately, poor eyewear can be as much of a culprit for headaches as no eyewear in those who require it.
Outdated Eyewear
Some headaches may be caused by farsightedness or astigmatism. If uncorrected or poorly corrected, headaches can occur quite regularly, particularly when reading or using the eyes for longer periods of time. It may be time for new corrective glasses if you find you are suffering from headaches regularly and more often when reading or using the eyes for focused tasks.
Prolonged Eyestrain
People who work long hours at a computer in poor lighting conditions are more prone to suffer from eyestrain. It is important to take regular breaks whenever you can, whether you are reading, working steadily at your computer or perhaps watching television. It can be similarly helpful to correct posture because poor posture can actually leave your head and neck at a poor angle for proper eye usage. Anti-glare screens can be another option for reducing eyestrain at the computer.
Other Eye-Related Problems
If there is a problem with the health of your eye itself, you may also suffer from headaches. If eye muscles are not functioning correctly, this can result in pressure around the eye, which then leads to headaches around the forehead and sides of the head. Another problem is glaucoma, which can cause headaches in the forehead, particularly in the lower half. For some individuals, they may suffer from eye problems for years without headaches, but the headaches may present themselves many years later.
Easing Headaches Related to the Eyes
For immediate relief, it is generally suggested that you rest your eyes and take an over-the-counter pain reliever. Even in people who have healthy eyes and eyesight, poor conditions such as low lighting during prolonged reading can create an uncomfortable eyestrain. If, however, you frequently find you suffer from headaches and you suffer from eyestrain even over short periods of time performing an activity, you should see your doctor and ask about having a thorough eye exam.
Eye Pain During Headaches
Pain in and around the eyes can occur with many headaches and this is a symptom, rather than a cause of headaches. If in doubt, check with your doctor but be aware that this type of pain around the eye area does not usually indicate an eye problem but instead, is a symptom of your diagnosed headaches.
Headaches can be extremely debilitating and compounding the pain is the frustration many experience in pinpointing the cause and obtaining effective treatment. If your doctor has examined you and found no other causes for your headaches, it might be wise to suggest a referral for an eye examination to ensure your eyes and eyesight are in good health. If you are already wearing corrective eyewear, make sure you have it updated as recommended by an ophthalmologist. With healthy eyes and eyesight, you can enjoy good vision and possibly also relief from your headaches.
You might also like...
I wear soft contact lenses in the day time and take them out only when I'm ready to sleep. Even then if the contacts are out and I close my eyes, my head starts hurting. It doesn't if I try to sleep with the contacts or glasses on. Help please.
Ms. Haider
- 12-Mar-17 @ 10:54 PM