Resources and Support for Headaches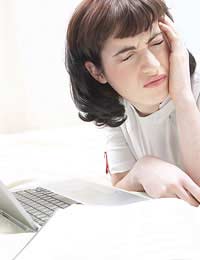 One of the worst feelings that a headache or migraine sufferer can experience is one of isolation. Head pain can be chronic and severely disabling limiting sufferers in their fulfillment and enjoyment of life. Treatments are available to help but most people aren't going to 'cure' all of their headaches; therefore, coping strategies and alternative therapies often fill the gap.
For a headache sufferer, feeling understood and supported is important as part of pain management. Not only can it help you to feel less isolated and less alone, but it allows you to learn from health professionals and other migraine and headache sufferers who likely share similar experiences and concerns.
Counselling
Many headache and migraine sufferers find that having an outlet to discuss their fears and worries is helpful as part of their treatment plan. There are many different counselling approaches such as cognitive-behavioural, person-centred and group therapy. Your local telephone book should have a section for counsellors and you can also speak to your doctor. Your doctor can probably suggest counsellors that specialise in chronic pain management. You may also have the financial aspect partially covered if you obtain a doctor referral.
Family and Friends Support
Headaches can impact the entire family when one person suffers from them. In fact, there may be several members of your family, including your children, who experience headaches, and this can make management more complicated. It's difficult to prepare dinner, drive to an appointment, socialise with friends or handle your career if you are suffering from painful headaches, especially if they are chronic.
You may need to develop back-up plans for when a headaches strikes. Having a family member or friend who can help with areas such as picking up your children from school, for example, can make a difference if a headache strikes and you are unable to leave your home. Just talking to family and friends may also be an important part of stress and pain management. Knowing you are cared for and supported can make a big difference in helping you get through each day.
Internet
There are various resources online and it is suggested that you be cautious when interpreting anything you read on the Internet, as the sources can sometimes be unreliable. Try to research through government mediated sites when possible, as well as non-profit or nationally and internationally recognised organisations. Some web resources you may find useful for information and support in dealing with migraines and headaches are:
Books
There is an abundance of literature on headaches, both general and specialised. A good place to start is your local library as there will be a wealth of information and the service is generally free. Some books you can try are:p
Managing Your Headaches (Mark W Green and Leah M Green)
Your Child: Headaches and Migraines: Practical and Easy To Follow Advice (Maggie Jones)
Guide To Migraine Free Cooking (Jerry Rainville)
Migraine in Women (Anne MacGregor)
Management of Headache and Headache Medications (Lawrence D Robbins)
Cluster Headache and Related Conditions (Jes Olesen and Peter J Goadsby)
Support Groups
Support groups are available online via chat rooms and message boards. Many people prefer the anonymity of online support groups and feel more comfortable discussing their headaches through this outlet. Some individuals, however, prefer a local support group that meets regularly and in-person. It's an opportunity to meet others who share your struggles as well as to talk face-to-face about your experiences. It's also a good way to learn about habits and techniques that have been successful for other members of the group. At the very least, you may find that you make some new friends and if you have been depressed, whether because of your headaches or independently of them, it can be helpful to leave the house and socialise with new people. Check with your doctor about local support groups for headache sufferers.
Above all, do know that you are not alone and that there are treatments and resources available for your headaches. You may continue to have frustrating days where your headaches strike and you need to retreat to your room. With support from medical professionals as well as family and friends, however, you can make living with headaches more manageable.
You might also like...