Headaches in School: Coping Skills for Kids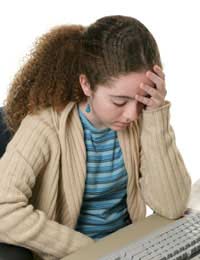 When many of us think of school we think of education and learning, but for some children, headaches can be a very real and painful barrier to getting through the school day. Just like adults, kids can suffer from headaches and it can have a distressing impact on studying, concentration and social relationships with other children.
There are many reasons why your child may be suffering from headaches. Stress is a common factor and headaches such as migraines tend to show a genetic basis, so you may also suffer from them. There are a number of strategies to prevent and address headaches and a doctor will work with you and your child to find a preventative treatment plan.
Stress and Relaxation
Stress is a known headache trigger and for a child, coping with stress is often a learned skill. Work with your child to find ways to unwind and relax. Spend time together and be open and non-judgemental so that your child feels comfortable sharing worries and fears. You may also wish to try alternative therapies. Music therapy is not only helpful in adults, but can be a great way to soothe your child as well.
Exercise
Active kids will experience similar exercise benefits as active adults. The glare from televisions and computers can trigger headaches so if you're able to encourage more physical playtime, your child can benefit two-fold. The social benefits and interaction that accompany sports and other playful exercises can also help to reduce stress and prevent your child from experiencing headaches.
Food
It's important that kids eat regular meals to prevent headaches from low blood sugar, so make sure that your child has small snacks to frequently consume while at school. Try to identify any sensitivities to food additives and avoid providing these foods whenever possible. Any food or drink triggers should be reduced or avoided and it can be helpful to provide a list to teachers, so that any treats brought into the classroom by other children don't leave your child with a satisfied sweet tooth alongside a painful head.
Your child should also obtain adequate fluids so be sure to include a large bottle of water or diluted juice that he or she can sip during the day. Dehydration can trigger a headache attack and encouraging your child to embrace the habit of consuming fluids regularly can help keep headaches at bay.
Self-Esteem
It can be tough for kids to deal with headaches, especially when they are frequent. Pain can keep them from playing with other children and will often just leave them feeling 'down' and 'in the dumps.' Compliment your child and remind him or her that other children experience headaches as well. It can help if your child doesn't feel isolated and different from other children because of his or her headaches.
Communication
Keep communication open with your child as well as teachers at school. It's important that your child tell teachers if headache pain develops and also important that your child be able to identify the beginnings of a headache, so that any techniques or medication can be facilitated by a nurse or teacher at school. Learning the warning signs can also prevent the headache from becoming more intense and painful. It may even be the case that you provide education about migraines or cluster headaches, for example, to the school nurse or teacher.
Be Positive
Focus on what you can do, rather than what you can't do for your child. If your child sees that you are positive and encouraging, he or she is more likely to experience those same optimistic feelings. Headaches can leave a child feeling depressed and helpless about his or her condition. If you show your child that the headaches can be handled, your child may believe it as well.
Sleep
Ensuring that your child gets enough sleep is important as lack of sleep can contribute to headache onset. Stress and intense pressure or exertion to obtain high grades can leave children fatigued, and it is important that enough sleep is obtained. Try to maintain a regular bedtime and wake-up routine and aim to make bedtime as stress-free as possible.
Try some of the suggestions mentioned and see how your child responds. Consistent communication will ensure that your child's coping skills develop to handle any changes in his or her headache pattern. School shouldn't be a painful and stressful experience for children who suffer from headaches; by taking preventative steps and utilizing current treatments, school can be a place of learning again.
You might also like...