A Daily Relaxation Guide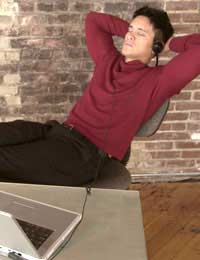 Relaxation can be an important part of headache and migraine prevention and treatment. Although it is virtually impossible to avoid all sources of stress relaxation techniques can help you to cope with stressful events and daily life better. It's best to try a range of techniques to find what works for you. Hopefully this guide can get you started to a more peaceful day and better headache management.
Breathing Techniques
Relaxing is, in many ways, a learned skill. To relax, you should be familiar with your own breathing patterns, so that you can alter them in ways to help you feel more at ease.
Deep breathing: A very basic description of deep breathing is that it involves a series of slow, controlled deep breaths. With each breath, you slowly relax your body and you may also combine deep breathing with images of warm and comfortable places, such as a sunny beach. Deep breathing is thought to oxygenate the body more effectively and promote better overall health as well as stress reduction, which ultimately prevents headaches and other ailments.
Rhythmic breathing: This type of breathing is similar to deep breathing but it is often timed with your heartbeat. You might want to find a quiet place to sit where you can just listen to your heartbeat for a few minutes. Try to be aware of your breathing and its pattern. With rhythmic breathing you are synchronizing the amount of time between each breath in and out. You can breathe in and hold for three heartbeats, for example, and then slowly release. The number of heartbeats doesn't matter and you should go with whatever feels comfortable for you.
Changing breathing patterns can feel a little strange at first but shouldn't cause discomfort. It can feel unfamiliar modifying your breathing when you are used to a very different way of breathing, especially if your breathing is usually rapid and laboured as a reaction to stress.
Music
People who experience headaches and migraines are often highly sensitive to noise and find that certain sounds can trigger an attack. On the other hand, soothing music may serve to relax, calm and alleviate feelings of emotional distress. There are a variety of musical styles but commonly used music for relaxation usually includes sounds of nature such as the ocean or birds. Gentle piano music is also a component of relaxation tapes. Music therapy is meant to promote a feeling of tranquility and peace and will ideally help to soothe any stress-related headaches.
Imagery and Affirmations
Guided imagery may be useful in providing a state of relaxation. Imagining a picture that gives you a sense of joy and relaxation can bring about headache relief. You may wish to couple this with breathing exercises for greater relaxation benefits. Affirmations involve positive statements that encourage well-being and relaxation. To create your own affirmation, you should focus on altering negative thoughts and patterns. Instead of saying, 'headaches are ruining my life,' you would perhaps try 'I am strong and capable of coping with my headaches.'
Progressive Muscle Relaxation (PMR)
The goal of PMR is to facilitate relaxation by tensing an area of your muscles to the point of a tight contraction. You then hold this contraction steadily for a few seconds, and slowly release the tension, leaving the muscles in their original untensed state. At this point, you move beyond the untensed state by consciously focusing on relaxing muscles even further.
Exercise
Exercise has many benefits for your heart and muscles, as well as improving self-esteem and releasing endorphins, the body's natural painkillers. Many people find that exercise reduces stress significantly and thus helps to keep migraine attacks less frequent. During a painful migraine attack, however, vigorous exercise is likely not the best course of action and you will probably need to lie down in a darkened quiet place.
If you're not able to perform cardiovascular exercise, you could try a light walk outside. If you do choose to do cardiovascular exercise, aim for 20-30 minutes for approximately three times per week. If time is restrictive, shorter bursts of 10 minutes can still provide health benefits such as stress relief.
You might also like...