Managing Migraine in the Workplace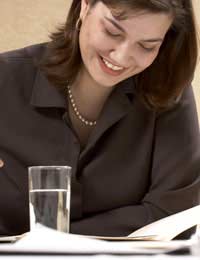 Migraine disease can be disabling in itself but it can also have a debilitating and disruptive effect on normal day-to-day life. In addition to the excruciating pain often experienced by sufferers, job loss and prejudices in the workplace abound. Sadly, migraine sufferers may tend to minimize their migraines as just a simple 'headache' rather than the more accurate category of disease.
Migraine, however, is a genuine medical condition and should be treated accordingly. In fact, a recent survey conducted by Headache UK of over 3,000 people affected by headache conditions, including migraine, showed that headaches have an enormous impact on a sufferer's life. More than half of the respondents felt that their careers had been affected by their headaches and 29% had kept their condition a secret to avoid discrimination in the workplace.
Workplace Changes for Migraine Sufferers
A safe and comfortable area in which to work should be a priority when handling migraine headaches. Other triggers such as food consumed while at work are also important. Consider making changes in your work environment by addressing those areas that trigger migraine attacks. Some changes you can make are:
Be mindful of how much coffee or cola you are drinking. Large amounts of caffeine can trigger a migraine attack while smaller amounts can alleviate one.

Ensure that you drink plenty of water to stay hydrated.
Try to eat frequent small, balanced meals throughout the day to keep your blood sugar stable, which can help offset a migraine attack. Keep snacks handy at your desk.
Request that co-workers minimize the amount of perfume or cologne they wear, because smells can be intense migraine triggers.
Try to find ways of coping with stress. Deep breathing exercises, aromatherapy mists for your workstation and tea breaks may all help you take a little time out from a busy or stressful day.
Although many people suffering from migraines will still try to continue working despite their headache pain, their income and overall productivity may fall if the work environment is not supportive of their condition. As such, it is important that changes made to the workplace are appropriate to both the migraine sufferer and to the employer. When considering how to best handle migraines in the workplace, it is wise to observe the severity and frequency of the attacks as well as the potential effect on other employees and the employer.
No Need for Embarrassment
It can be tempting for migraine sufferers to try to hide the fact that they experience migraine headaches. This can, however, cause a variety of problems. If you are aware that your migraines will affect your abilities during working hours or through calling in sick, try not to hide your migraines, as this may result in people misinterpreting your discomfort. For example, people may incorrectly assume that you're struggling with the workload. Often, if given the chance, co-workers may be helpful and sympathetic to your struggle.
Making Decisions About Your Work
In an ideal world, you will have a career that allows you to be productive and comfortable despite your migraines. If your migraine frequency is high, you may find that a structured work environment is too difficult to handle and you may need to seek a job with more flexibility. Also, in the worst-case scenario, if you find that you can't work, you can potentially file for disability.
For most people though, a few adjustments and a responsible and open attitude along with a willingness to work will create a comfortable working environment for everyone involved.
You might also like...