Top Ten Tips for Headache and Migraine Relief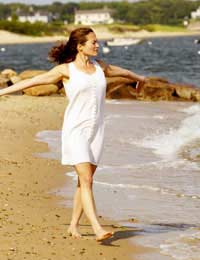 Migraines and other headaches don't have to ruin your life. There are things you can do to alleviate and prevent the pain.
Relax
Stress has been linked to migraines and keeping it at bay can help to reduce migraine frequency and severity. Relieving stress can mean many things for different people and the ways to accomplish stress relief are virtually endless. The best advice is to try different things and see how you feel afterwards. A relaxing walk in the fresh air aromatherapy treatment and social time with close friends are all examples of ways to take a 'time out' from a busy day and relax.
Eat a Healthy Balanced Diet and Maintain a Healthy Weight
Generally, a healthy diet is recommended for all of the population but it can be particularly important as part of your headache and migraine management plan. Aim to eat as many different foods as possible and focus on the majority of your diet being carbohydrates, with fats and then proteins making up the remainder. Obesity is thought to increase the severity of migraines, so keep an eye on portion sizes to further help in weight management.
Avoid or Limit Food and Food Additive Triggers
People who suffer from headaches can be highly sensitive to certain foods and food additives and may find they trigger headaches and migraines. Try to identify those food additives that prompt headaches, and then read labels and see if avoiding those triggers helps to prevent headaches.
Be Prepared for Sudden Attacks
Headaches and migraines can strike anytime and anywhere. Try to ensure you have access to a quiet, dark room to lie down. A cold, wet cloth on your head may also soothe headache pain. Over-the-counter preparations such as ibuprofen and acetominophen may help; try to keep a small container of medication handy in your bag whenever possible.
Keep Communication Open With Your Doctor
It's crucial that you're comfortable speaking to your doctor because if you withhold any important information, you risk compromising the quality and accuracy of care that your doctor can provide. If you have a lot of difficulty being frank with your doctor about symptoms and concerns, it might be time to look elsewhere for healthcare provision. Whenever you notice a change in your headache or migraine pattern or if you experience persistent side effects, notify your doctor. Your treatment plan isn't static and will likely change as your headaches and overall emotional and physical status changes through the years. You may develop new triggers and it's important to address these as they arise. Your doctor is a key person in helping you manage your headache pain.
Don't Be Afraid to Try Alternative Methods
Although certainly not always the case, conventional medicine often doesn't acknowledge or support the use of alternative methods. As with anything, approach any new treatment with care and caution, but do consider alternative or 'natural' and non-drug based methods for migraine and headache relief. These may be homeopathy, acupuncture or various other therapies. The bottom line is that if you feel it works and helps your headaches, a study saying it's valid or invalid won't change the relief you're experiencing.
Keep A Headache Diary
Monitor your food intake and exposure to any chemicals and take notes in a headache diary. This will help you to identify patterns that may emerge which are triggering your headaches. Be sure to take the diary with you whenever possible. It may sound like a lot of work but considering the intense pain headaches can cause, a little bit of time spent writing in a diary can go a long way in headache relief. It is also helpful to show your doctor a headache diary and helps him or her obtain a better grasp on your symptoms and whether or not your lifestyle is contributing.
Limit Stimulant Use
Caffeine and cigarettes have been linked to migraines and reducing consumption may help reduce the frequency of your headaches. Instead of coffee or cola, try to substitute lower level caffeinated drinks such as green or black tea. Your doctor can work with you to choose a method that is appropriate to help you quit smoking and make the withdrawal more manageable.
Have Your Eyes Examined
Various eye problems from glaucoma to eyestrain can cause headaches and it's important to rule out any serious eye disorders. General eye exams should be performed every 1-2 years depending on your age. If you are experiencing specific symptoms that your doctor believes are related to your eyes, you may be referred to an eye specialist. Don't put off an eye test because the sooner you can address any potential problems, the sooner you can obtain headache relief.
Learn
Although your doctor is certainly a primary source of headache and migraine information, don't rely solely on him or her. Read as much as you can about your diagnosed headache disorder and keep abreast of new medications and alternative treatments as they are introduced. Researchers are working hard to develop and identify new ways of treating headaches and it's important that you are able to make educated decisions about your health and which treatments are right for you.
You might also like...
This site is quite useful and helpful.Thanks a lot
Pagea
- 5-Feb-15 @ 1:19 PM