Chiropractic Care for Headaches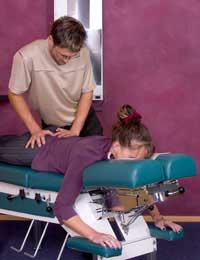 Many people aren't aware that headaches are actually a commonly treated complaint in a chiropractic doctor's office. The causes vary a great deal but can include inflammation of the muscles or spinal cord, nerve compression or irritated joints. Many headaches stem from a muscular or spinal component, which is well within the realm of chiropractor treatment.
If your general practitioner has examined you and has been unable to determine a specific cause of your headaches, it may be helpful to visit a chiropractor for further examination. Many visits to chiropractors are, in fact, initiated by patients who become frustrated with the current standard of care that can be focused more on medication as opposed to determining the root cause of the pain.
Muscle Inflammation
Poor posture, particularly for long periods of time spent at a computer or similar workstation can lead to muscle inflammation and contraction and tensing of the muscles around the neck and back areas. In turn, this can lead to tension headaches. Pain occurs around the head and neck, often increasing as poor posture and working habits continue. Chiropractors can address the pain through a range of treatments after conducting a history and physical examination. The goals will be to treat the problem while suggesting ways to improve posture and working conditions.
Nerve Compression and Irritated Joints
Joints in the spine contain many nerve fibres. Any kind of injury or strain may potentially damage the nerves, resulting in extreme pain and headaches. The muscles become stiff and this affects the joints in the spine, leading to poor alignment. The surrounding ligaments can also become strained and injured, which further increases headache pain. A chiropractor can, however, successfully treat headaches due to nerve compression, which will also ease other pain associated with the injury.
Post-Traumatic Headaches
Post-traumatic headaches may occur from an injury such as whiplash. Chiropractors can work to address injury to the neck and can also help to prevent further headache pain from recurring injuries.
Chiropractic treatment of tension headaches will involve an in-depth look at your lifestyle and any postural, work or related trends that may be triggering headaches. Although pain relievers can temporarily reduce the pain, a chiropractor will focus on the root cause of the headaches and can successfully relieve headaches through:
Determination of the nerves, muscles and joints contributing to the headaches.
Appropriate adjustments to the neck and upper back.
Tailored advice and tips for reducing stress in your life.
Supportive information regarding exercise and healthy posture.
Chiropractors sometimes recommend that care begins before there is a problem, which can be helpful as part of your preventative health management. If you are already suffering from headaches, then it is even more important to investigate whether there is a spinal component to your pain.
Your headaches may be due to any number of causes but if they stem from a problem related to the spine and muscles, a chiropractor may be of aid. As with finding any health practitioner, ask friends and family members for referrals or inquire if your doctor is familiar with a chiropractor who has a high reputation. By ensuring your spine is healthy and strong, you may be able to ease headache pain.
You might also like...