Tension Headaches and the Alexander Technique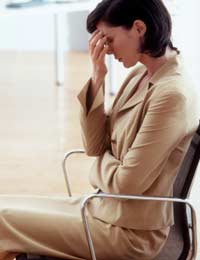 Tension headaches are an extremely common complaint. Many people accept them as a normal part of daily living and don't see any problem with taking over the counter painkillers a couple of times a month, or once every week, to get rid of a nagging headache. Taking medication to treat a tension headache is, however, just treating the symptoms not the cause of the problem. The Alexander technique is gaining a good reputation for being able to treat the root causes of not only tension headaches, but also back pain and other muscle-tension related aches.
What is the Alexander Technique?
Essentially, it is a new way of both moving and staying still. Lessons in the Alexander technique involve a trained practioner working with you on a one-to-one basis to first study how you move, walk, sit, and then to guide you to a more effective way of doing these things, without creating unnecessary muscle tension in any part of your body.
People who have become practiced in the Alexander technique say that they feel healthier and lighter generally, they move more easily and they are less prone to tension in the shoulders when sitting or working, and this really helps to reduce the number of tension headaches that they get.
Releasing Muscle Tension
Exponents of the technique explain that we all start by being able to move fairly naturally when we are children. That ease of movement tends to be lost as we get older and we generally become completely unaware that we are tensing our muscles when it is not required. How often do you stretch your arms after sitting at your desk concentrating on sometime, or after carrying shopping bags, only realising then that the muscles in your neck and shoulders were knotted and tense. Even more common is to be thinking about something without realising that your brow has furrowed into a deep frown.
The theory behind the Alexander technique is that careful training can make you aware of the tension that you have in your muscles. The next step is to re-learn how to move, sit and stand, so that normal activities produce nowhere near the same degree of muscle stiffness. You learn better posture, and more efficient ways of moving.
How Many Alexander Technique Lessons do you Need?
If you decide to follow the Alexander technique to solve a problem such as tension headaches or chronic back pain, it is a good idea to have a medical check to make sure there is no underlying medical cause, other than poor posture or muscle tension. Most practioners then recommend that you have a couple of sessions per week for the first month, perhaps moving to weekly for a period of several months. The learning process is gradual, but with constant weekly support, moving in the right way becomes second nature. After 6-9 months, you may then only need 'refresher' sessions, rather than weekly lessons.
Does the Alexander Technique Work?
There are plenty of people who have benefitted from learning the technique but, even more convincingly, the British Medical Journal published a large study that showed that the Alexander Technique did produce good results in people with chronic back pain. There are no similar studies published to show its effects in tension headache, but the fact that it has been shown to work for other types of chronic pain adds to the weight of evidence that suggests it may work well.The major advantage of the technique is that it can be learned by anyone and there are few risks. A lesson involves walking, sitting and standing while your teacher places his or her hands on key muscle groups to see where your greatest areas of tension are. Then, you just re-learn how to move and stand without generating this tension. There are no rigorous exercises, no aerobics and you don't have to balance in strange positions.
You might also like...