Hydrocephalus Caused My Headaches: A Case Study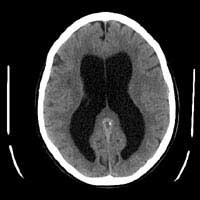 It has been a long year for Mark. In and out of hospital, he is now starting to exercise again and is looking forward to a much better summer. "Late last May, I was rushed to hospital after collapsing at the school where I teach and diagnosed with viral meningitis. That's not quite as dangerous as meningitis caused by a bacterial infection, but I was very poorly and was kept in for 10 days. After that, I started to recover slowly at home, knowing it would take time," explains Mark.
With the support of his girlfriend Clara, Mark tried to get back on his feet. As a PE teacher, he was used to being very active, so having to stay at home and rest didn't come very easily. "When I was first out of hospital, I couldn't do more than just lie around, but after a couple of months I started to get frustrated that I wasn't getting back to normal. I knew that I needed to take things carefully but the worst problem was that I started having migraines," says Mark.
Constant Migraine Headaches
Three months after his first discharge from hospital, Mark found himself back there having tests because his migraines were getting worse. "I was getting a headache nearly every day – and I had never had them before. Really bad ones, with nausea and sickness and I couldn't bear light. I was also very sleepy and difficult to wake at times, and I felt really groggy. Not myself at all. My GP thought that I might be developing another infection, so I went in for a two-night stay to have some tests," he says.
Various different tests were done, including a spinal tap, but there was no sign of any infection. Mark suffered two headaches during his stay in hospital, and his neurologist did several CT brain scans, both when he had a headache and once when he didn't. "That wasn't planned, it was just an accident of timing but it did show him something – he suspected that I had excess pressure in my brain as a result of excess fluid," says Mark.
Hydrocephalus Diagnosed
After consulting with a colleague, looking at Mark's scan results again and examining him, the two neurologists explained to Mark that they thought he had hydrocephalus – fluid on the brain. "I was shocked – I had heard of hydrocephalus but I thought it was something that only happened in babies born with spina bifida. I had no idea it could develop in an adult," Mark remembers.
The doctors explained that, while it was true that hydrocephalus was more common as part of a congenital defect like spina bifida, it could develop when the normal drainage mechanism that balances the cerebrospinal fluid in the brain was disturbed by an infection. They also told him that people over 60 can also develop the same problem due to age-related changes. This also causes headaches, but it can also lead to problems with balance and memory. The symptoms mimic dementia, and it is often misdiagnosed.
Surgery to Relieve the Hydrocephalus
Just as babies born with hydrocephalus that are given a shunt system to drain away the excess fluid from the brain into their abdomen, adults with hydrocephalus need to have their shunt in place for life. "I was worried about that at first – the thought of having to have the surgery was scary enough, but the fact that the shunt would need to stay in my body forever was really weird," recalls Mark.
The operation was scheduled for just after Christmas and went well. "I was in hospital again for 10 days, but was so relieved that the headaches just stopped. Once the pressure in my brain was reduced to normal levels again, the cause of the headaches had been removed and I have had only the odd one since. I then started to feel much more myself again and coming home from hospital after the shunt had been put in place really marked the start of my proper recovery," he says.
Mark will now need life-long follow up care to make sure his shunt stays in place and works well for the rest of his life but there is no reason why he can't now get back to full health and fitness. "After nearly a year out, I return to work in September – and I am looking forward to getting on with my life at last," he grins.
You might also like...