Rebound Headaches Nearly Ruined My Life: A Case Study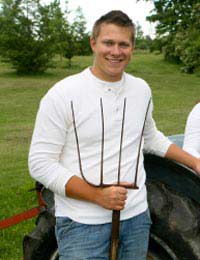 Joel is taking a break from building a section of the wall that will form the entrance to a converted barn. This is a lovely spot, just a few metres from a large and quiet beach in East Yorkshire, a real undiscovered hideaway. "I am building this for myself and my fiancé – my life is now so different from three years ago, and I guess I have my headaches to thank for that. At the time, though, I thought they were ruining my chances of leading any life at all," he says.
Stress and Tension Headaches
Going back four years, Joel was working as a partner in a large building firm in London. It specialised in refurbishment jobs in large Victorian homes and the work was very busy. "I know this was quite a way before the recession started in earnest, but we noticed a change around then. Clients were trying to push down the prices; jobs were taking longer, material prices were going up. We must have been running with a fairly low profit margin and when the squeeze started, it really hit us badly," he explains.
The immediate response from the two brothers who had the major share of the business was to push everyone harder to get through what they expected to be a difficult - but fairly short patch. But things continued to get worse. "I was under real pressure; working 12 hours a day over the summer and weekends too and I got bad tension headaches – maybe once or twice a week. Then I found out that Ian, the partner who was responsible to accepting the jobs was getting more work by pricing the contracts right down – so we were working harder than ever for less and less money. I wasn't sleeping at night and then everything took a turn for the worse when my wife walked out on me. We had been married three years, and she got bored and lonely at home all the time after she got back from work and I wasn't there. She found someone else..." Joel says sadly.
Constant Headaches
The emotional despair, combined with the lack of sleep and the constant pressure made Joel's tension headaches much worse. "I decided the only way I could cope and keep going was to take paracetemol every morning and evening to keep them under control – I even took painkillers before I got a headache, thinking it would prevent them. I now know this is really stupid," he admits.
Constant headaches are difficult to cope with and it is common for people to self medicate and take over the counter painkillers too often. This can create rebound headaches – the head pain never goes away and gets worse and more frequent as you take more painkillers.
Breaking Point
Things came to a head one day in late August three years ago. Joel's house had just been sold and he was staying with his cousin, sleeping in a tiny spare room. "He came upstairs when he got in one evening and found me banging my head against the wall – I couldn't stop, the pain was driving me crazy and he took me straight to hospital." Joel was in a real state and was assessed by the doctor on duty, who thought he might need psychiatric help. "This guy worked in A&E, so he was used to seeing and dealing with all sorts of stuff – but he looked genuinely shocked when I told him I was taking painkillers to the maximum dose every day and had been doing for at least 3 months. Then I knew things were serious..." says Joel.
Joel's cousin called his parents who had been worrying but did not know the full extent of the problems. They came down to London to fetch him, told the building company he was taking extended sick leave and booked out a holiday cottage by the coast in Dorset for a month. "I had to go cold turkey as I was really addicted to pain killers and it was really tough. I have never had headaches as bad. But after two weeks, they were getting less and, for the first time in a year, I got my perspective back."
Changing Life
Joel never did return to London – he resigned his job, took the small amount of profit he was due and moved north. "I have downsized in every way, I live in a caravan while I am renovating my barn, I do odd building jobs for people – and amazingly I am ending up with more money than I used to earn! I have also met Jane and we are getting married when it's finished and moving in; my life has changed now, and it's definitely for the better," he concludes.
You might also like...