Migraine Disability Assessment Questionnaire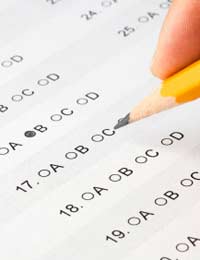 For people who have been diagnosed with migraines, hearing a term to describe their headaches can almost come as a relief. Migraines are not simply a 'headache, and they can have an enormous impact on a person's daily living. When a person finally has an accurate diagnosis, it can be a relief to think of accessing treatment for the pain. Unfortunately, treatment options – although broad – do not work for everyone, nor do they work all of the time. As a migraine sufferer, your doctor will want to monitor your migraine treatment to ensure that your health care needs are met. Fortunately, there is a useful questionnaire that can help migraine patients and their physicians to access the best treatment plan for the patient's unique needs.
Using The MIDAS Questionnaire
Richard Lipton at the Albert Einstein College of Medicine in New York and Walter Stewart, Associate Professor of Epidemiology at John Hopkins University in Baltimore developed MIDAS. The patient completes the questionnaire and it serves to assess a patient's disability in relation to his or her headaches. It also allows a patient and a physician to help manage the patient's migraines. A benefit of MIDAS is that it can be used when a patient initially visits a doctor for help with headaches or it can be used during a treatment schedule to keep track of a patient's progress and changing migraine patterns.
Benefits Of The Questionnaire
Areas that the MIDAS questionnaire covers include the impact of migraines on a patient's personal life and career. Five of the questions look at the number of days a person is affected by migraines and two additional questions investigate the intensity of the patient's pain and how frequently they experience migraines. Patients are assessed through a grading scale, with their responses being minimal (grade I), mild (grade II), moderate (grade III) or severe (grade IV). The aim of this questionnaire is to formulate the most accurate and realistic treatment plan possible to meet the patient's needs.
Another benefit of the MIDAS questionnaire is that it encourages better communication between a patient and his or her physician. It also helps a physician to improve his or her understanding of how migraines affect that particular patient. A physician can also better choose a successful treatment plan for managing migraines because the MIDAS questionnaire provides a solid assessment of a patient's migraine-related disability. Yet another benefit of the MIDAS questionnaire is that it provides a way for physicians and patients to monitor migraine headaches over a long period of time.
Taking The MIDAS Questionnaire
Please answer the following questions about ALL of the headaches you have had over the last 3 months. Select your answer in the box next to each question. Select zero if you did not have the activity in the last 3 months.
1. On how many days in the last 3 months did you miss work or school because of your headaches?
2. How many days in the last 3 months was your productivity at work or school reduced by half or more because of your headaches? (Do not include days you counted in question 1 where you missed work or school.)
3. On how many days in the last 3 months did you not do household work (such as housework, home repairs and maintenance, shopping, caring for children and relatives) because of your headaches?
4. How many days in the last 3 months was your productivity in household work reduced by half of more because of your headaches? (Do not include days you counted in question 3 where you did not do household work.)
5. On how many days in the last 3 months did you miss family, social or leisure activities because of your headaches?
A. On how many days in the last 3 months did you have a headache? (If a headache lasted more than 1 day, count each day.)
B. On a scale of 0 - 10, on average how painful were these headaches? (where 0 = no pain at all, and 10 = pain as bad as it can be.)
Scoring: After you have filled out this questionnaire, add the total number of days from questions 1-5 (ignore A and B). Scoring is as follows:
MIDAS Grade I: Little or no disability: Score 0-5
MIDAS Grade II: Mild disability: Score 6-10
MIDAS Grade III: Moderate disability: Score 11-20
MIDAS Grade IV: Severe disability: Score 21+
Once you have completed the questionnaire, you can take this to your doctor's office, whether it is your first point of contact for treatment or you are monitoring your migraines. By completing the MIDAS questionnaire, you can hopefully communicate successfully with your doctor and obtain the best treatment plan to bring you migraine relief.
You might also like...
@Linda - I empathise with your situation which is having such an effect on your day-to-day work patterns. I have included an article by the migraine trust which should help you further
here
namely, Migraines the Workplace and the Law.
HeadacheExpert
- 9-Jan-15 @ 2:03 PM
I've just had yet another day off work with a migraine today. After 20 years of holding down several different jobs, and going into work with a migraine at least once a week, with the help of medication, taking the odd day off when the tablets don't work, I'm just wondering if this questionnaire will help with attempting to get registered disabled with migraine. I'm not looking for help financially as I work, and take my job seriously, attempting to reach targets every quarter for the last 7 years, and succeeding. Being registered disabled will help with my employer taking migraines seriously.They only know about the days I take off sick, not the days I go into work with a lesser degree of migraine.This still impairs my ability to function at less than 100% and weekends usually mean at least 1 more migraine. Life seems like a cycle of work, migraine management, work, with little time for much else.
Linda
- 8-Jan-15 @ 8:32 PM