Numbness in Head With Pain and Dizziness: What Can it Be?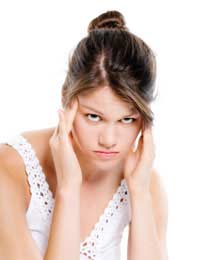 Q.
I want to ask you about the headache that I have been having on and off over the past 3 weeks. I get a sharp pain every now and again at the back and sides of my head and then sort of feels like it's gone numb. I did feel a bit faint but not sure if that was related or not. I usually never have any headaches so this is why I'm worried and scared that it's something really serious. I just want to know your opinion on the matter.
(L.A, 21 May 2009)

A.
First of all, we must stress that if your symptoms continue, get any worse or you are worried then the best thing to do is to go and see your doctor to talk over how you are feeling so they can do a proper physical examination.
Sharp pain and numbness in the head could be due to a whole range of things, some not at all serious, others more serious. If you are young and otherwise healthy, one of the most likely explanation may be that you are suffering from stress and some anxiety. Do you feel you are under any unusual stress at the moment? Tension headaches, muscular problems in the shoulders and upper back can all cause pressure on the nerves that lead up to the skin on the scalp. If a nerve becomes pinched or inflamed, this can cause all sorts of symptoms.
It is interesting that you mention feeling a little faint as well as having the pain and numbness – could it be that you have hyperventilated just before you experience your symptoms? Hyperventilation, even for a short time, can be a result of anxiety.
If you think the cause might be stress, you need to consider how you can tackle the source of the stress – is it your work, a family problem, concerns about money? If there is something you can do to remove the source of your main stress, then take steps to do that. If it is something that you have no control over – many people a facing uncertain financial situations at the moment – you can try some techniques to help you deal with the stress, to stop it affecting you so much. Try a good relaxation technique, take some time out to do more exercise, or do something that you really enjoy doing.
Apart from stress, it is possible that you have some sort of muscle injury in the neck, back or shoulders that could be causing the problem. Have you injured yourself recently – a minor whiplash, a sports injury?
If neither of these explanations seems likely, or if you are experiencing other symptoms such as nausea, dizziness or if you are feeling unusually tired or weak, then you definitely need to make an appointment with your local doctor to find out what could be the cause of your pain and discomfort. If all tests come back negative, and nothing seems to be seriously wrong, you might think about some sort of complimentary medical treatment such as visiting a chiropractor, trying hypnosis or having a course of acupuncture.
You might also like...
I am getting headache & numbness on head and minor numbness to whole body, so what is the solution. Pls suggest
Bujji
- 20-Sep-18 @ 9:06 AM
I have been having tightness in my head feeling like a zombie since my husband had a stroke.So not know what to do!
I feel numbness on both sides and top of my head feels like my brain is swallon like a lot of pressure in my head I also feel the pressure in my face cheeks nose and forehead and right where my nose starts in between my eye brows. I also have plugged ears there always crackling all the time.. and a lot of tension in my shoulders and neck like a sore bruising pain I've had this problem sense 14 months some days I can handle it and some days I feel like I'm going to die. Took a ct and came back normal took blood test came back normal I found out I am vitam d definsity tho? But other then that I was told it was migraines but I feel it's not it's more then just a headache, then again I don't know I'm waiting for my mri results. Also I've been feeling recently some drainage from the back of my trough and pressure release in my nose like a tiny opening for air to Xscape, kinda like sinuses. I don't know if this sounds wierd to people but I've tried to explain it the best I can thnx pls let me know what you guys think.
Migraines/tension/pr
- 18-Jun-18 @ 11:13 AM
I've numbness in face and back of my head dizzy most of the time and very tired wot could it be
Buzz
- 30-Jan-18 @ 5:22 PM
I have severe headache blurred vision and dizziness 24hours. I can't even performed simple daily activity. Sleeplessness. MRI of cervical spine show that c5 c6 are dissected. Could this be the overall dramatic reason? Please need help.
Seiboi
- 6-Nov-17 @ 3:09 PM
I get these pains on the lower right side of my head right behind my ear, when i get them, the side of my head gets real hot and numb and I get real lightheaded it mostly happens when I make a forceful move or just when I'm working.The pain goes all the way to my tongue i feel like its going to make my face paralyze.I talked to two doctors already and they've both told me its just a spasm and they could only give me steroid injection or pills.But I don't think they're just spasms.
drea
- 1-Apr-16 @ 8:27 AM
Melanie - Your Question:
I have a terrible headache with numbness, what can it be?
---
Our Response:
I'm afraid we cannot give an online diagnosis, you would have to visit your GP.
HeadacheExpert
- 26-Jan-16 @ 10:00 AM
I have a terrible headache with numbness, what can it be?
Melanie
- 25-Jan-16 @ 1:41 AM
Help!! I have numbness at the back of the head into neck area only at night time! It drives me wild. Been docs had bloods done X-ray done everything is normal as it should be so what is it? I don't drink or smoke and im only 24. It's been happening g a few months now please someone what do you think it could be?
Emma
- 30-Nov-15 @ 8:29 PM
@bulla-shetta - I'm sorry to hear you have been suffering. Firstly, not all tablets have side-effects, and headaches can be eased with more conventional tablets such as Paracetamol, which has few side effects. With regards to your 'anxiety', I'm sure, you are not any of the attributes you have listed to yourself. If you are suffering from a generalised anxiety disorder, then feeliings of 'displacement' are common and it can affect concentration. Occasional feelings of anxiety are completely normal, however, you should see your GP if anxiety is affecting your daily life or is causing you any distress. I hope this helps.
HeadacheExpert
- 15-Jun-15 @ 1:57 PM
I have been facing the problem of headache from several years as of its been part of my life As I know it was due to anxiety as I never approached to the physician because the pills may have untold side effects as some of them may be chronic In my case the head usually starts paining with dizziness when someone gives me specific task ,I don't know what happening with me as I used to be so smart and intelligent in childhood but now I am geek ,loser and moron I became mentally weak this was started happening 10 years ago when we shifted to our village it was really cultural shock I was 14 years old and don't know how to cope with this then slowly inferiority complex started to build up it was root cause of my problema
bulla-shetta
- 12-Jun-15 @ 5:56 PM
@Rick - while we would like to be able to do what we can to help advise on your obviously awful situation, we cannot give medical advice I'm afraid. You would have to see your GP.
HeadacheExpert
- 23-Dec-14 @ 11:34 AM
Good Morning 4 Months ago I was injured at work where a heavy ceiling tile the weight of a laptop was dislodged and fell on my head flush on from thirty feet up...... I did not lose consciousness or vomit but immediately was left with headpains ~ On visiting two A&E departments over the first five weeks I was told I had Concussion and it would go away within 6 weeks? The headaches worsened along with impaired vision and dizziness so after 5 weeks I visited my GP and was sent for a CT scan (Came back normal) so was prescibed Naproxen and diagnosed with Post Concussion Syndrome and laid off work. The symptoms persisted with a headache 24/7 and so I paid 300.00 to see a specialist who has since diagnosed Post Traumatic Chronic Migraine and over the last 3 months in an attempt to control the said Migraine I have been prescribed Propropranol which made me violently sick with respiritory issues and so was then prescibed Amitriptyline which only worsened the continued headaches and other symptoms with Vertigo. Following this I was prescribed Topiramate which made the headaches so severe, I begged my GP to stop the medication. I am at my wits end and actually doubt the diagnosis of Migraine as I have the headaches continuously stemminf from the scalp and across the forehead at times to the sides of the head at others with a throb. Is it possible that there has been some nerve damage that is causing Neuropathic pain and if so how can this be verified for I need to return to work but the dizziness and impaired vision are making it difficult as I work laboratories. If you have any advice I would be grateful for a way forward as I wish to return to a normal life and normal duties. Best Regards Rick
Rick
- 23-Dec-14 @ 9:02 AM
@sarahk2000 - I would leave your hair down for a week and see whether the pain goes. Sometimes if you tie your hair back it re-positions the follicles and then letting it down will just mean the follicles are re-adjusting to a new position, especially if when you tie it up, you have tied it up quite tightly.
Gemma
- 9-Dec-14 @ 10:20 AM
every time i tied my hair up and losen it back down, I seem to have pain at the back of my head and I was just wondering if that's normal because I feel it sometimes even I didn't tie my hair up that day. This has occurred for about 2-3 years for me now and was just wondering if this is normal. Also, I fainted for no reason last Christmas, would this be linked to the pains that I've been having? Thank you
sarahk2000
- 7-Dec-14 @ 10:28 AM
i feel like my head is numb at the back keep having shooting pain in my neck and back of head very tired feel tired and faint so worride what could it be im so scared that ive got a brain tumor
foxall28
- 10-Dec-12 @ 8:58 PM
Hi, I am 27 and I have had this type of sharp pain followed by unbalanced feeling for the past year now. Had a MRI done which came back clean, doctors reckon its due to tension headaches and anxiety. I never used to have any issues with headaches growing up.I have tried to use the PC less and have recently had some treatment with the chiropractor. Whilst my treatment things seems to have improved but the one thing that remained was tension around the eyes. Two months since I stopped visiting the chiropractor the eye problems are there and also the tension on the muscles around the head have returned. What I would like to know is have people who have suffered chronic headaches actually made a full recover and what seems to be the time taken to achieve this?
PV2011
- 28-Sep-11 @ 9:49 AM