Chiropractic Care For Migraines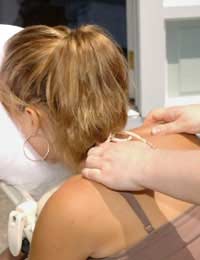 Chiropractors aim to provide treatment for conditions related to joints bones and muscles. They perform 'adjustments,' usually manually, to help correct various physical problems. By treating these conditions, the symptoms and painful effects occurring throughout the body and particularly, in the nervous system, can ideally be eased. Headaches are actually a common complaint heard in the chiropractic office and by performing various adjustments, a chiropractor may be able to help your headaches.
Tension Headaches
Tension headaches in particular may prompt visits to the chiropractor as these can occur from contracted and tense muscles in the neck and back. Anytime the spinal bones are misaligned or compromised in some way, headaches can occur due to nerve or tissue pressure. Problems with the spine, including the neck and back areas are often missed and don't receive examination. They can cause quite painful headaches and head pain may become chronic.
Headache pain may then be covered up for years through the use of over-the-counter medications. These medications treat the symptoms rather than the cause and also can result in medication overuse and rebound headaches. Therefore, seeing a chiropractor for diagnosis and treatment can be helpful. There is still controversy regarding the effectiveness of chiropractic treatment but ultimately, it may be wise to investigate and discuss with your doctor, various ways of treating headaches. Some treatments such as chiropractic care are still not widely supported but that does not mean you will not experience relief.
Cervicogenic Headaches
A cervicogenic headache is caused by the cervical spine and can occur from an absence of mobility in the upper cervical area. The term is used to refer to headaches where the primary causative agent is the spine. Chiropractic care is thought to be very helpful for this type of headache because it can correct the source directly. It is also suggested as a helpful treatment for other types of headaches such as common tension ones, because they may share the same cervical element. Tension headaches in particular can possibly benefit from spinal manipulation, as this can relax and stretch tense neck muscles and joints.
Migraines
Migraines are a type of headache that is considered less likely to benefit from chiropractic care, although this statement is still somewhat controversial and case studies have still been shown to provide relief for migraines through chiropractic care. Your chiropractor can discuss with you whether he or she is able to treat your migraines.
What Will a Chiropractor Do?
A chiropractor will perform various adjustments and movements, usually with his or her hands. The adjustments are meant to correct identified problems and allow you to regain movement and reduce headaches and other associated pain. Usually a chiropractor will also initially conduct an extensive background history as well as a thorough examination and possibly even x-rays. He or she will then usually provide a diagnosis and suggest an appropriate treatment plan. A chiropractor is not a replacement for your general medical doctor; rather, a chiropractor should be viewed as a complement to your main healthcare provider.
For some people, regular chiropractic care may be helpful and effectiveness will depend on your individual symptoms and headache causes. Be sure to seek out a registered chiropractor and don't be afraid to check for credentials as well as patient referrals. Some people find that they do experience immediate headache relief while others will require ongoing treatment for several years. Sometimes when a malformation in the spine is undetected for a long time, treatment can be more complicated and often requires patience. Chiropractic care is considered by many to be an alternative treatment and it does not involve medication. It is another option that may help you in your quest for a headache free day.
You might also like...