Headache and Migraine Relief During Pregnancy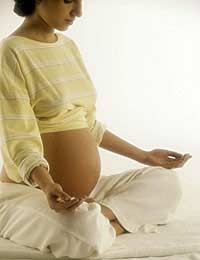 Headaches are common during pregnancy, and may involve tension headaches or migraines. Tension headaches tend to feel like a dull ache on both sides of the head and around the neck area. They are often the result of stress, exhaustion, dehydration or allergies. Approximately twenty percent of pregnant women, however, will suffer from migraine headaches.
What Are Migraines?
Migraines are different from the more common tension and stress headaches and can last anywhere from two to forty-eight hours, and occasionally even longer. They are a type of vascular headache, believed to result from an abnormality in the functioning of the brain's blood vessels. Any headache can be painful but migraine headaches are often disabling.
Symptoms of a migraine may include:
Throbbing or pounding pain in the temples or front/base of head
Nausea and vomiting
An 'aura' where the sufferer sees flashing lights or lines
Tunnel vision or blind spots
Loss of appetite
Fatigue
How Does Pregnancy Affect Migraines?
Migraines often occur during the first three months of pregnancy, with most women finding that they disappear during the second and third trimesters. Despite what may be severe pain for the mother, migraines do not pose a direct threat to the foetus. The hormonal changes during pregnancy can actually reduce the frequency and severity of migraines or make them worse. Some women also find that they experience their first migraine during pregnancy.
Migraine Treatment During Pregnancy
It is important that treatment is directed by a physician or other health care provider who can confirm that the pain is from a migraine, and not the result of other causes. The challenge in treatment is to maximize migraine relief while minimizing the potential for foetal harm. Prevention is the ideal approach, followed by natural methods and finally, medications.
Prevention
Common dietary triggers for migraines are chocolate, cheese and coffee. Food preservatives such as monsodium glutamate (MSG) and nitrites, often found in processed meats, can prompt migraines. It may be helpful to use a food diary to monitor diet and identify potential triggers. Also, stress, sleeping disturbances, bright lights, loud noises and skipping meals can all trigger migraines.
Natural Treatments
If a migraine does occur, some women find that relaxation techniques such as deep breathing, gentle yoga or meditation are helpful in easing the pain. Other measures might include bed rest in a darkened room, cold packs, and sleep. Regular exercise, which could involve light walking, has also been shown to help alleviate migraines.
Another technique that may help is massage, especially if performed by a prenatal massage therapist. Acupuncture has also been suggested for migraine relief and is considered safe during pregnancy.
Medication
Acetaminophen use during pregnancy has been well studied and is generally an acceptable medication for migraine treatment. Some preparations, however, do contain caffeine and studies have suggested that caffeine consumption in pregnant women be limited to less than 300 mg per day. Prescription medications for migraines are generally not considered safe for use in pregnant women.
Pregnancy can be both an overwhelming and exciting time, as women cope with physical and emotional changes. Migraine headaches may become more frequent or severe but treatment options do exist.
By taking care of yourself, identifying migraine triggers and finding the personal treatment that works, more time can be spent enjoying the pregnancy and preparing for your new arrival.
You might also like...
Got headache a lot don't no wat to use. Am in my 15 weeks now. Thank you
sharon
- 12-Sep-12 @ 7:29 PM