Walking and Fresh Air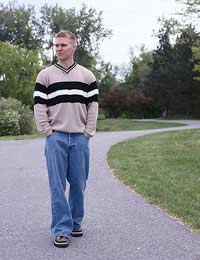 When a painful headache strikes, the last thing many people feel like doing is exercise or any activity that requires movement. Even a slight turn of the head can trigger crushing pain. Migraines in particular are usually worsened by activity. Between attacks, however, studies suggest that regular exercise such as walking can both prevent headaches and lessen their intensity when they do strike. Chronic headaches, where pain from headaches is a daily fact of life, can be significantly reduced when a consistent walking plan is maintained. In addition to the benefits of exercise, outdoor air can be very helpful, as many compounds present in air indoors, such as dust mites and chemicals, can trigger headaches. Therefore, the benefits of outdoor air coupled with walking or other forms of exercise can increase the level of headache pain reduction. Care must be taken, however, to understand the potential problems from any activity prior to beginning an exercise programme.
Challenges of Intense Exercise
Although exercise can help prevent migraines and other headaches, as well as reduce the chronic pain from them, it can also be a trigger of headaches so be mindful of this when embarking upon exercise.
Medications can also increase the potential for exercise-induced headaches. Beta-blockers, a type of preventative migraine medication, can affect performance in any forms of exercise. This is because they can lower the pulse and limit the capability of heart contraction. Walking is generally considered a less intense exercise but if you are doing it briskly, be aware of how your medications can interfere. If you are able to begin a gradual warm up before embarking on higher intensity cardiovascular exercise, this can help to prevent headaches triggered by intense activity. For this reason alone, moderate walking is an excellent form of exercise. If you are susceptible to exercise induced headaches, your doctor might suggest an anti-inflammatory drug such as indomethacin; this affects blood vessels and can keep headaches at bay through walking or any other activity.
Why Walking is Helpful for Headaches
Mild to moderate walking provides the benefits of exercise without some of the risks of intense exercise. Many people like an activity that is easy to perform and walking is one such choice. It does not require any special equipment or props and can be done virtually anywhere.
You can also set gradual goals for yourself. Try to be realistic; if you haven't done any exercise at all before, set a small goal one week and then when you reach it, set another small goal for the next. You may wish to aim for ten minutes of walking for three days one week, and then fifteen minutes of walking for four days the next. You can continue to increase the distance walked and challenge yourself slowly. Don't forget that mixing up the pace can also provide a challenge so if you feel ready to do so, try to walk briskly and you can alternate a slower pace with a quick one.
One study suggested that those who walked for thirty minutes a day on three days per week were able to cut headache frequency by as much as half. Walking can also help with weight control. Some studies have indicated that obesity contributes to headaches so walking can be an excellent part of your weight management program. To make walking more enjoyable, consider having a walking 'buddy' who joins you for walks. You can then obtain the benefits of walking as well as social time with a friend. Some find that having a friend walk along helps to maintain motivation as well. Many headache sufferers notice that the mood benefits of walking are wonderful and immediate, providing an instant source of stress relief.
Indoor Versus Outdoor Air
Indoor air quality is generally poorer than outdoor and this is due primarily to the insulation of homes. New homes in particular are tightly insulated to reduce energy consumption and the downside is that less fresh outdoor air can circulate in your home. Any decrease in air quality is not filtered out and thus tends to get worse. Contamination in the air from mould, dust, animal fur, chemicals and cleaners is not able to escape and your headaches can become worse. If you are finding that headaches or migraines occur more often after you return home, air quality is a trigger worth investigating. Ideally, try to open windows during milder months as often as possible. During the winter, bundle up warmly and take a brisk walk outside whenever you can. You'll simultaneously obtain the benefits of fresh air and walking, which is a great way to reduce headaches and experience other mood and physical benefits.
You might also like...