How Do Triptans Treat Migraines?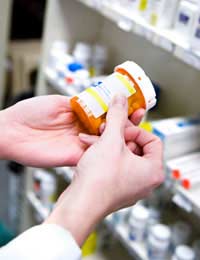 Triptans are drugs used to treat severe migraines, the ones that do not respond to standard painkillers such as paracetamol, codeine, aspirin or ibuprofen. They do not actually work by killing pain – they treat migraine by constricting dilated blood vessels that are thought to cause the pain. They also stabilise the levels of several peptides and neurotransmitters that become unbalanced during a migraine attack, allowing the blood vessels and nerve endings to recover more quickly.
Triptans and Serotonin
To understand how triptans work, it is important to understand the role of serotonin in migraine. This molecule is a chemical neurotransmitter – it is present in the brain and passes signals between different nerve cells. Also known as 5-hydroxytryptamine, this neurotransmitter fits into 5HT receptors. When this happens, one of the effects is to make the muscles in the wall of blood vessels contract so that the blood vessel lumen becomes smaller. The whole vessel constricts, drawing the wall in so that it doesn't press into the tissues surrounding it.
One of the main results of a migraine is that blood vessels in the brain become dilated and distended. This makes them press on the surrounding brain tissue, causing pain. Triptans are known as serotonin agonists – they fit perfectly into the 5HT receptors, so fooling the blood vessels that there is plenty of serotonin present. The blood vessels constrict, so easing the pressure and reducing the sensations of pain.
How were Triptans Developed?
Triptans have only been available since the 1990s and represent a major new treatment for migraines. Before triptans, very severe migraine headaches and cluster headaches were treated using ergotamines, a class of drugs derived from the ergot fungus. These were effective in some people but they have very bad side effects and tend to stop working after they have been used for a while.
The lack of suitable drugs to treat severe migraines led to a directed drug discovery programme from the early 1970s. Research from the decade before had shown that ergotamines worked partly by binding to the 5HT receptor, so Glaxo started to test compounds to see if they could find one that was a good match for the receptor, but that didn't have as many side effects. Sumatriptan was the first drug that fitted the bill – it bound 5HT, caused blood vessel constriction – and it could be taken in tablet form, rather than being given by injection. Modification of this molecule led to several other members of the triptan family.
What Kinds of Triptans Are There?
Sumatriptan, eletriptan, rizatriptan, almotriptan and zolmitriptan are all used to treat migraine. Triptans mimic the molecular shape of serotonin, but they are not identical. The individual drugs all fit the 5HT receptor but they have slightly different three dimensional shapes. Because we are all different, some people respond better to one particular triptan compared to the others – probably because of genetic variations in the shape of their 5HT receptor. What is a perfect fit for one receptor, will not be a good match for another.
Finding whose receptor fits which triptan the best is trial and error. Someone with severe migraines are usually started on the cheapest and most readily available triptan, but may be moved to others if that first therapy is not effective. Most triptans are prescription only drugs but sumatriptan became available as an over the counter medicine in the UK in 2006.
When to Take Triptans
Triptans are designed to reduce blood vessel distension in the brain – so it is important to wait until you have some definite symptoms of a headache before you take them. Taking triptans during the aura stage of a migraine headache means that they don't work quite as well. They don't prevent the headache coming on and then it is difficult to take another dose when you need to.
You might also like...