My Sports Injury Lead to My Headaches: A Case Study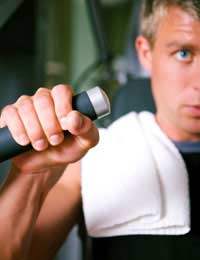 Keith is a fit 30-year old man who bristles with health and vitality. He runs 4 times a week, does circuit training at his local gym another three evenings and goes hiking in the countryside in Lancashire every weekend if he can. "I want to live my life to the full and being as fit and healthy as I can is part of that," he says.
Despite his routine, and his insistence on a very healthy diet, Keith's appearance doesn't really tell the full story. For the last three years, he has been plagued by aches and pains leading from his neck to the base of his skull and up his jaw, through his right eye and into the top of his head. "Sometimes, the headache and other aches and pains last for days and I find it really difficult to concentrate. Nothing seems to shift it and I hate taking painkillers anyway," he says.
Investigating the Source of the Pain
At one point, the pain in Keith's jaw and eye were so bad that his GP thought that his teeth and eyesight should be checked out to see if he had problems that were referring pain up to his head. "My teeth were fine and my vision was 20/20 – I also watched my diet and kept a headache diary but this really didn't show up any patterns at all," he remembers.
After close questioning, Keith's doctor picked up on the fact that he had played rugby at quite a high level from when he was 16 to just before his 20th birthday. "I was really serious about rugby but I stopped after a shoulder injury during a tough game. "I was off the game for about a month with terrible pain and I obviously suffered some nerve damage as I have ever been able to do the same weights with my right arm as my left – I couldn't maintain the same level after that and gave up rugby within three months of that injury," explains Keith.
A CT scan showed nothing, nor did an X-ray but a follow up visit to a sports injury specialist revealed that Keith's left shoulder was a bit lower than his right. Some of his muscles were wasted in his upper body, despite all of his training and he had some inflammation and extra connective tissue just under his collarbone. "When he asked me to turn my head, it was obvious that I couldn't turn my head to the right as well as I could to the left," says Keith.
The Pain Pathway
With reference to the in depth anatomy of the muscles and nerves around the collarbone and neck, the specialist explained to Keith that his original injury had caused some muscle and nerve damage in one small set of muscles – that had direct pain referral pathways to the right cheek, behind the eye and to the right jaw. "This is exactly where the pain started and then it also developed in the top of my head – probably because I was then adding tension to other muscles in my neck, so the injury was the root cause of my headaches," says Keith.
The specialist said that any sustained lifting on Keith's right side would make the symptoms much worse – his training shouldn't affect it, nor should running or hiking. But then Keith realised that when he was hiking, he often took a heavier pack, for added cardiovascular training. "I tend to wear the pack on my right shoulder for much of the time on the flat, only putting it on properly for the hills," says Keith. The specialist concluded that this could be enough to inflame the small set of affected muscles – and this also explained why Keith's headaches would get worse at the start of the week. It wasn't that he was returning to work and getting eyestrain that was the problem – it was the after-effects of the weekend hike, with a lopsided pack habit.
Relieving the Symptoms
"Amazingly, the treatment, which has brought about a 99% improvement in my symptoms, was just to carry my pack properly, on both shoulders – or to just carry an ordinary pack, not the weighted one. I have done this every weekend I have been hiking for the last three months and I am now pain free. It seems like a miracle - but actually, it was just medical detective work," laughs Keith.
You might also like...