The Dental Connection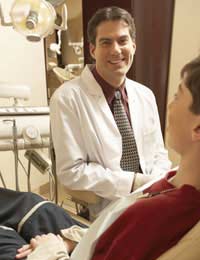 Although lifestyle factors such as diet smoking, occupation and stress can be major causes of headaches, mouth-related diseases and structural problems can also contribute. Individuals who possess badly aligned bites or have had teeth removed may have a variety of associated health problems, including headaches and migraines. Some of the symptoms that may indicate your headaches are indeed related to your teeth and gums are:
Eye, neck, shoulder or back pain
Aching jaw muscles
Tooth grinding
Clicking facial joints
Tender head
Pain or ringing in ears
Dizziness
Pain behind or around the eyes
Orofacial Pain
Orofacial pain is a term used to describe virtually any pain occurring either in or around the face. The pain may be felt in the sinuses, eye or ear area, cheeks or even the side of the head. You may notice an uncomfortable clicking during movement of the jaw as well. Various conditions may prompt orofacial pain, including nerve diseases, temporomandibular joint (TMJ) disorder as well as muscle contractions and tension caused by stress and anxiety. Rarely, tumors and other serious illnesses may cause orofacial pain.
Wisdom Teeth
Wisdom teeth can contribute to headaches. If a wisdom tooth is impacted or somewhat erupted, swelling can occur and gum tissues may be infected. The swollen gums and teeth can leave an individual with a badly aligned bite, which may then cause pain in the jaw area. Inflammation and additional pain in the jaw joints and muscles leaves a person with what is called a wisdom tooth headache. If left untreated, pus may form and further inflame jaw muscles.
Teeth Grinding and Headaches
If you find that you awaken with headaches and jaw pain that slowly ease as the day progresses, it is possible that you grind your teeth while sleeping. The repetitive clenching and grinding of teeth while sleeping may cause intense headaches that are particularly pronounced in the morning and may also result in pressure or wear on surrounding joints and muscles around the jaw, as well as damaging your teeth. A special fitted guard for your teeth can be worn at night to prevent the damage that results from teeth grinding.
Tension Headaches and Your Jaw
Tension headaches are very common and are related to tense contracted muscles. They can be quite painful and may occur from tensed jaw muscles that are triggered by dental problems. If you are experiencing any of the following symptoms, you may have an oral condition that is triggering the headache:
Teeth grinding
Pain that occurs when biting
Popping of the jaw joints
Aching and sore jaw
Neuromuscular Dentistry
Neuromuscular dentistry is a newer phrase used to describe a more extended and modern approach to dentistry. Rather than just focusing on the teeth and mouth directly, neuromuscular dentistry examines the jaw and neck muscles and their relationship to the mouth and teeth. By addressing muscles and any tension that may occur in the jaw from poor bites or infections of the gums and mouth, a neuromuscular dentist can address headaches that may occur from muscle tension. If you check your local telephone book, you should be able to find dentists in your area who specialise in this more advanced form of dentistry.
Your headaches may be occurring from any number of causes but if you do find you are experiencing any jaw or oral discomfort alongside headaches, it is very possible that your headaches are dental related. Usually, over-the-counter remedies such as acetaminophen and ibuprofen will be suggested to handle immediate pain, while your dentist addresses the root cause of your headaches. Visit your dentist and talk to him or her about your symptoms. You will likely receive a thorough examination and if your headaches are indeed related to your dental status, addressing the cause may even eliminate your headaches completely. Surely, that is something to smile about.
You might also like...
I experience all these problems, I think the context is explained very well. Thank you for helping me.
Nam
- 30-May-11 @ 11:17 PM