The Impact of Sweeteners On Headaches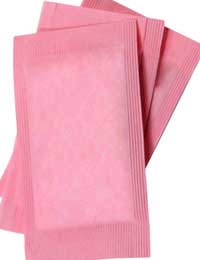 Many headache and migraine sufferers look to their diets in hopes that they might identify a food, additive or similar product that is triggering their headaches. Often, a headache diary is used to keep track of what foods and beverages are consumed as well as when headaches occur and what is happening within the person's environment at the time.
This can be of great aid in pinpointing a specific trigger of headaches and migraines.
For some people, research suggests that sweeteners such as aspartame may trigger head pain. Other studies, however, have failed to show a conclusive link. It can also be overwhelming for sufferers because the evidence itself is conflicting.
There is an abundance of conflicting research reporting in the media - one day reports support a food additive or similar product while the next it appears that the same product should be avoided.
Sweetener Controversy
While the sweetener itself has generated a great deal of controversy in terms of its safety, it is currently an approved sweetener that is considered safe for consumption within industry guideline amounts.
At the same time, those studies suggesting aspartame can trigger headaches or migraines are still important enough to warrant examining your diet if you tend to consume many products that contain artificial sweeteners, particularly if you find you suffer head pain following consumption of the products.
Reports to regulatory bodies do occur quite frequently with regards to aspartame but these are still anecdotal and the link is not one that has been adequately verified.
It is also important to keep in mind that blood sugar fluctuations can also trigger headaches, as can low blood sugar itself. For some people, choosing sugar-free products that instead, contain an artificial sweetener is important for their personal headache prevention plan.
Ultimately, it is likely to be a case of trial and error when you attempt to determine precisely what is causing your headaches and if sweeteners such as aspartame are responsible for your headaches or migraines. It can help to eliminate all suspected triggers first for several weeks, and then slowly add them back in the diet one at a time.
Another thing to be aware of is that caffeine is commonly present in diet drinks and chocolate products that contain sweeteners. Caffeine is a known trigger of headaches and migraines, which means that consumption of caffeine-laden foodstuffs could leave you mistakenly assuming that the sweetener is the culprit for your head pain.
Making the Right Choice for Your Headaches
Overall, it seems that some people are more susceptible to headaches that occur after consuming sweeteners. For these people, it is likely wise to avoid or limit consumption of sweeteners. Try to adapt your taste buds to unsweetened and naturally sweetened foods.
Also be aware that sweeteners are 'hidden' in many different types of prepared and packaged foods, so be sure to read labels carefully and identify those foods that might trigger your headaches. Headaches and migraines are complicated conditions and each person has to be proactive in identifying his or her personal headache triggers.
By pinpointing sweeteners as a possible source of head pain, you can find ways to prevent the onset of a headache and get back to being free of headaches.
You might also like...