My Glasses Made My Head Hurt: A Case Study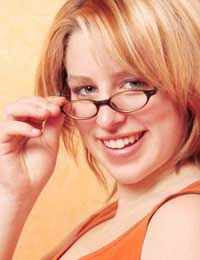 Looking young and slim, you would never know that Rebecca has 20/100 visual acuity in both eyes, with bad astigmatism. "If it was any worse, I would need a white stick," she jokes. Today she is wearing a pair of designer frames, which tone well with her hair and makeup and she looks great. "I feel fine now but until 2 months ago, my eyesight problems were really getting me down," she admits.
Glasses and More Glasses
Since she was a tiny child, Rebecca has been to eye specialists and opticians to help look after her sight, which has never been good. It has actually deteriorated with time but the eye consultant she saw in her late teens told her one very important fact, something that she has regretted not always bearing in mind. "He told me that, no matter what I did, I should spend money to get the best pair of lenses or glasses that I could possibly afford. If I did that, my poor vision could be improved to the normal level and I would be able to live a healthy, productive and happy life," she remembers.
As with many young people, however, Rebecca was swayed by fashion, a social life and the need to do more mundane things like buying a flat and paying for a second hand car. "I was always short of money and I decided to skimp on some things – I didn't want to look old fashioned or frumpy, so I opted for a high street chain of opticians for their designer frames, rather than the quality of the lenses in them," she says. For a while, boosted by the cheapness of the high street specs compared to her usual, highly trusted optician, Rebecca had three different pairs – one for work, one for weekends and one for special evenings out.
Headaches and Eye Strain
Working as a magazine desk editor meant that Rebecca was constantly moving between a computer screen and proofs or layouts and she often experienced headaches, which she put down to eye strain. "I did notice though that one pair of my glasses in particular was linked with bad headache days, so I decided to do a bit of an experiment. I wore my three pairs of glasses to work for three days in a row each and kept a diary of how I felt in the morning, at lunchtime, when I left work and in the evening," explains Rebecca.
The results were interesting. One pair of glasses produced no problems but when she wore the other two, she got a headache starting in the early afternoon on each of the three days of her experiment. "I hadn't been doing any different work on those days but I thought that this must mean there was something wrong with two pairs of my glasses. They were supposed to be the same prescription, so I couldn't understand what was going wrong," she says.
Testing the Glasses
After thinking about the problem over the next couple of weeks, Rebecca decided that the best thing to do was to go to her previous optician and ask him for advice. She took along all three pairs of glasses and explained what had been happening. "He, of course, asked me where I had got the glasses and shook his head and tut-tutted when I told him – but I expected that. He then took all three pairs of glasses and examined them with equipment that could show where the focal point of each lens was," says Rebecca.
The optician then explained that one pair of the glasses were fine for their prescription and the focal point of the lens but the other two, while having the same strength lenses, had focal points in different places. "He told me that that would have made my eyes constantly trying to compensate and it was no surprise that I was getting eyestrain and headaches," adds Rebecca.
Better Lenses, New Frames
Rebecca had already decided that she was going to reallocate some of her budget and go without meals out and new clothes for two months and put the money instead into a new pair of glasses from her trusted optician. "I still got designer frames, but I have to just have one pair now, not three, but it is worth it to be free of constant headaches. I won't ever go back to the high street for my eye care now," she says.
You might also like...