My Headaches Were Due to an Aneurysm: A Case Study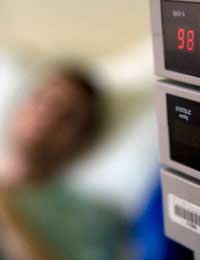 Claire is a slim woman in her mid 50s and looks the picture of health. It is difficult to believe that two years ago, she lay dangerously ill in intensive care after a blood vessel in her brain burst, causing her to be rushed into hospital for emergency treatment.
"I had been feeling fine until about three months before, when I started to suffer from headaches at the back of my head, particularly if I had been overdoing things, or I was particularly stressed; I put it down to having a tension headache and thought I was simply trying to do too much. I had taken on extra responsibilities at work and that seemed to explain my symptoms," says Claire.
The Worst Headache Ever
Just after Claire arrived for work one day, she experienced what she now calls the worst headache she has ever had in her life. "The pain was unbelievable and excruciating – it felt as though someone had lodged an axe into the back of my head and were then twisting it repeatedly," remembers Claire. The pain was so bad and Claire felt so ill that she collapsed and then went into a convulsion. Work colleagues acted quickly, thinking she was having a stroke and called an ambulance immediately.
"Their fast actions certainly made a difference – I was in hospital in 15 minutes and under neurological assessment almost immediately. I don't remember any of this as I was drifting in and out of consciousness but I was aware I was vomiting more or less all the time. I am thankful really that I remember so little," she says.
A Subarachnoid Haemorrhage is Diagnosed
After various examinations, the consultant on duty that day thought that Claire had probably had a subarachnoid haemorrhage. This is where an artery in the brain becomes expanded, causing an aneurysm, a swelling in the blood vessel. This had become weakened and had been leaking blood but Claire had now suffered a more serious leak that was causing pressure to build up in her brain. "During the CT scan though, nothing major showed up, but a spinal tap showed that I had blood in the fluid around my spine. This confirmed that I had an actively bleeding aneurysm," explains Claire.
Treating the Aneurysm
Emergency surgery was arranged and a stent was put in place through the artery in Claire's neck protecting her from further bleeds and encasing the aneurysm so that it would not become weaker. Afterwards, Claire was intensive care for five days and then stayed in hospital a further two weeks. "My blood pressure had to be very well controlled to make sure it was kept quite low to not put any pressure on the repair in my brain. I was given pain killers, medicine to reduce my anxiety, anti-convulsion medication to stop me having fits and I had to literally just lie in bed. Any activity was expressly forbidden. I even had to have laxatives so that I didn't strain when I went to the loo – I can sort of laugh about it now but it was very difficult to cope with at the time," says Claire.
Recovering at Home
After more tests, Claire was eventually allowed home but she had to rest and recuperate for three months, having regular checks and a CT scan to confirm that the aneurysm in her brain had been repaired successfully. "My headaches were originally a warning but everyone gets headaches from time to time, particularly at times of stress, and there was no way of knowing that something was seriously wrong. I am now back to full health and follow up tests have shown that I don't seem to have any more danger spots. Why I had the aneurysm in the first place is a bit of a mystery – and I am a bit scared now if I do get a headache," says Claire.
However, the experience has changed her attitude to life and she has reduced her work hours and has resolved to spend more time doing what she enjoys. "It was certainly a wakeup call and I will never take life for granted again," she adds.
You might also like...