Living With Cluster Headaches: A Case Study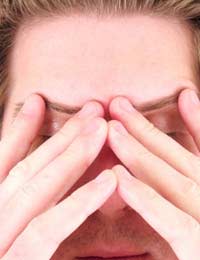 "Cluster headaches are a sort of plague from hell; I wouldn't wish them on my worst enemy. When I am in the middle of an attack, I just crawl around on the floor crying, using every foul word and phrase I can think of and asking to die." These impassioned statements seem at odds with Geoff, a 51-year old history teacher who is quietly spoken and dressed immaculately.
Geoff had his first attack of cluster headaches shortly after his 30th birthday, which is the classic age that this disorder begins. He was woken from sleep at about 2am with an intense, constant pain around his left eye and temple. "My eye was watering very profusely and leapt up in panic because I thought I had been hit by an intruder and I was bleeding. There was no blood and no intruder – my eye was just watering, which has turned out to be a usual feature of every attack since," he remembers
The headache became unbearable, reducing Geoff to a weeping, crawling wreck, literally beating his head on the floor to make the pain go away. Then, after about an hour, the pain went. After being in bed another 3 hours, the attack repeated itself and he had another at 9am, leaving Geoff a quivering jelly, unable to go to school. "I made an appointment with my doctor as I thought I had a brain tumour at least."
Geoff was told to take a couple of days off to rest and relax as the headaches could be caused by tension and stress, and to come back if they got worse. "I came home reassured and started to forget about the previous night -–but what I thought was an isolated event came back to haunt me three or four times every night for the next 7 weeks."
A Cluster Headache Attack
Geoff was diagnosed as having cluster headaches. After 7 weeks, the attacks stopped as suddenly as they started but the headache specialist he had seen had warned Geoff that they were likely to return. There is a documented case of someone with cluster headaches going 25 years between attacks, but it is more usually a year or two.
In Geoff's case it was 9 months. "At first, when the headaches stopped I was afraid to go to sleep in case I woke up in pain again. The first attack of the night always came around 2am, which I now know is fairly typical. Apparently, one of the triggers is the onset of rapid eye movement sleep, which occurs about 2-3 hours after going to sleep," explained Geoff.
Geoff's wife, Helen also began to dread night coming, as she felt completely helpless to do anything to help. "Night after night he would wake up about 2am and start groaning. Usually he went downstairs – luckily we have a converted cellar that we used as an office and he goes there so as not to wake our three children. They would be really distressed if they saw their dad rolling around on the floor, crying and moaning and beating his head on the floor," Helen told HeadacheExpert.
"When a headache is in progress, I also swear and curse – and I never do that in the rest of my life. I just want it to end so much, the pain is utterly overwhelming," said Geoff.
Treatment Options
Cluster headaches are very difficult to treat. They do not respond to medication in the same way as migraines and seem to be completely different in origin, although both types of headache are vascular. Patients who experience cluster headaches have tender spots in the carotid artery in the neck and spasms in the artery may be one of the causes of the pain.
"I have taken ergotamine to stop attacks and a daily dose of this seems to prevent attacks when I am in a 'headache attack' time. I have also obtained an oxygen cylinder and mask designed for people with cluster headaches as breathing in 100% oxygen for a few minutes usually ends an attack, particularly at night," reported Geoff. However, for the last few years, Geoff's doctor has prescribed intravenous sumatriptan, which both Geoff and Helen have been taught to administer at home.
"Sumatriptan aborts an attack within about 5 minutes, which is bliss. I also take Verapamil, which is usually diagnosed for heart problems. Nobody really understands how it works but taking a daily dose extends the time between attack phases. I have been clear of cluster headaches for three years now, but I am wary every time I lay down to sleep. You just never know when a fresh attack will strike."
You might also like...