Headache Homeopathy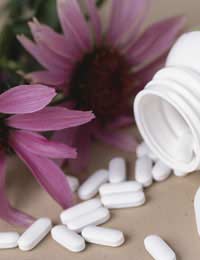 Some people find that prescription treatment for headaches simply isn't effective enough or that the side effects are too uncomfortable to allow for treatment to continue.
One consideration may be homeopathic medicine. It is thought to be less likely to cause side effects in comparison with prescription strength medications. Homeopathic treatment aims to address each person uniquely, rather than simply recommending one specific treatment for everyone who suffers from headaches, for example.
Homeopathy also abides by the ethos that a person should be treated as a whole and treatments are therefore likely to be multi-faceted. It is considered an alternative treatment to conventional drugs and medications. For those suffering from the pain of headaches and migraines, it may be worth looking into how homeopathy can help your discomfort.
How Exactly Do Homeopathic Medicines Work?
Homeopathy is meant to enhance the body's natural healing and encourages your body's own ability to heal itself. Treatment is thought to increase the production of endorphins, which are the body's natural painkillers. Homeopathic treatment uses diluted quantities of various plant, mineral or animal substances to focus on the root cause of an illness. Treatment may be aimed at various areas such as stress or allergies as well as symptoms occurring during an attack.
Some of the following homeopathic medicines are suggested for headache and migraine relief:
Belladonna - throbbing, pounding headaches where the sufferer is sensitive to noise and lights.
Nux Vomica - a common headache remedy often indicated for headaches related to food triggers or alcohol.
Silicea - migraines triggered by hormones or those related to exertion or orgasm.
Ignatia - headaches related to grief or depression.
Arnica - recommended for headaches related to head trauma or injury.
Iris - intense migraines, particularly those with aura and other visual disturbances.
Spigelia - sharp, painful throbbing headaches.
Lachesis - excruciating migraines, with pain often on the left side.
Sanguinaria - used for migraines that are felt mostly on the right side of the head, with painful sensitivity to lights and sounds.
Homeopathic medicines are available over-the-counter but it is preferable for you to receive guidance from a homeopathic practitioner. Dosage and frequency of the preparations will vary and you may be using only one medicine or a combination. Medications may be used early on when headache pain initially begins, and also daily for long-term prevention.
Prevention Rather Than Cure
Homeopathy is rarely a cure or quick fix although some people believe headaches can stop completely after appropriate use of homeopathy. Thus far, evidence is largely just anecdotal but many people experience wonderful benefits from homeopathic treatment. Medicines may require some time to take effect and are intended to manage and relieve headache pain. Homeopathic medications can also have contraindications with prescription medications, so it is crucial that you discuss this form of alternative treatment with your doctor, to ensure you don't compromise your health.
Although homeopathic preparations are considered quite safe as a whole, reactions such as a skin rash can occur so caution should still be used. If you experience a reaction, be sure to consult with your healthcare provider immediately. With a little care in choosing the right homeopathic treatment, you will hopefully be on your way to headache and migraine relief.
You might also like...