Using Meditation to Manage Relief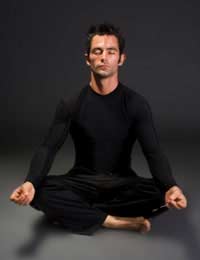 If you are one of the millions of people who suffer from headaches you may have chosen to consider alternative treatments as an addition to medications or perhaps even as a replacement for them. Meditation is one such treatment and its roots are, in fact, very old.
Meditation has been used in cultures around the world and through many centuries. It is considered a form of mind and body healing and it is intended to balance a person's physical, mental and emotional states. Stress and tension are often implicated in headache pain and meditation is a way to decrease anxiety, leaving your mind and body relaxed and comfortable. Meditation can relax breathing patterns, lower blood pressure and reduce or remove stress, which can then reduce headache frequency and severity.
Concentrative Meditation
Concentrative meditation is a form of meditation that focuses on something simple such as a breath, image, or sound. The idea is to calm the mind and bring about a strong awareness and clarity within oneself. It essentially allows you to narrow your focus.
A basic way to try concentrative meditation is to sit quietly and calmly; you should focus your attention on just breathing. Since anxiety tends to yield labored, rapid breathing, the aim is to focus breathing and slow it down so that it is calmer and more regular. By focusing on the inhalation and exhalation of breath, you are practicing a simple but effective form of meditation. Your mind should then become more relaxed and clear as you continue to focus and you may experience a sense of tranquility.
Mindfulness Meditation
Mindfulness meditation is a way of training your mind to remain in the present moment. It's a way of taking note of both conscious and unconscious thought. With mindfulness meditation, you become aware of what is happening within your body as well as your surroundings. Try sitting in a place free from external noise or interference. Allow your mind to run freely and accept all of the thoughts that you experience. Try not to judge them or become too involved in them, but simply let them enter and exit your mind.
Stress Management
Meditation is thought to have many benefits on stress from different areas of life, whether that is home, work or personal related stress. By using meditation to cope with stress, your headaches will hopefully become a thing of the past.
Ease Pain
Frequent and intense headache pain can really decrease quality of life, affecting relationships and functioning in both work and home. Despite a great deal of research focused on new drug treatments as well as investigations into causes of headaches, many people still prefer a non-pharmaceutical approach to easing pain. Meditation is touted as an effective way to address pain without the potential side effects of conventional treatment. It's worthwhile to try meditation and see if it makes a difference in your headaches.
There isn't really a right or wrong way to perform meditation; the aim is to spend time on yourself. It's a way of giving your mind and body the care it deserves and you may find that a reduction in stress and headaches is only one of many benefits you experience.
You might also like...