Hydrotherapy and Physiotherapy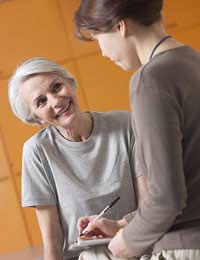 Some people who suffer from headaches look to alternative pathways to either replace or complement medications and other treatments.
Physiotherapy is one such alternative that may help headache pain. Physiotherapy uses various treatments to improve a person's physical abilities functioning and performance. It aims to improve quality of life by maintaining physical mobility and comfort as well as addressing pain, physical disabilities and impairments. Overall, physiotherapy also promotes fitness and general well being. The treatment goal is to break down any barriers that are preventing you from feeling well and having a full range of movement.
What Headache Types Benefit from Physiotherapy?
The main headache that seems to respond to physiotherapy is called a cervicogenic headache. This results from damage or pressure primarily on the neck as well as other parts of the spine. The damage may be caused by a car accident, poor posture or certain disease states. Other headaches such as migraines and tension-related ones may still benefit to a lesser degree; relieving muscle tension is often the key in physiotherapy treatment for these headache types.
Your individual symptoms and physical status will affect how long physiotherapy treatment lasts as well as how effective it is for your pain. Some people respond very quickly while others may require ongoing treatment for many years.
Hydrotherapy for Headaches
Hydrotherapy is a type of physiotherapy treatment that involves water for pain relief. One approach is to place your feet in a water bath while simultaneously placing an ice pack or a damp cold cloth to your head. It is ideal to place the cloth on the area of your head where the pain is most intense. You may also wish to try alternating a hot and cold treatment to stimulate circulation and ease muscle tension.
For migraine and tension headaches, try using both hot and cold water. Be sure that the hot water is comfortably hot, not boiling, and fill a large bowl. Soak a cloth in cold icy water and wring it to remove excess moisture. Place the cold towel on the afflicted area of the head; you may also wish to place one on the neck as well. Alternately, you can soak the towel in hot water and place your feet in a bowl of cold water.
For sinus headaches, it is recommended that you place the towels just over the sinus area for relief and you may wish to gently massage the temples to enhance the treatment. It may be helpful to wrap a soft towel or other such wrap around the ice pack, as the direct cold sensation may be too intense. It may also be wise to limit the duration to no more than half an hour, to ensure that skin does not become irritated.
Finding a Physiotherapist
Physiotherapists are university educated and the discipline of physiotherapy is considered a professional one. Physiotherapists will work synergistically with whatever treatment plan you already have in place. When you first visit a physiotherapist, he or she will usually have various forms that you must fill out. These will typically cover your health history and may ask you to describe your headache pain in detail as well as any other related information such as accidents and recent test results. Your physiotherapist may also request medical records and may wish to view x-rays or similar tests that your doctor has already conducted. The physiotherapist will likely examine you and will work with you to develop a treatment plan for your headaches.
Physiotherapy utilizes a wide range of treatments, which may involve physical exercises that you perform at home, hydrotherapy, direct exercises performed by the physiotherapist, acupuncture or electrical stimulation. With a little care in choosing a suitable accredited physiotherapist and perhaps some hydrotherapy conducted at home, you should be well on your way to managing headaches.
You might also like...