Aromatherapy For Headache Relief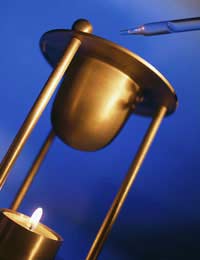 For headache and migraine sufferers seeking out non-drug methods of relief is often an important part of pain management. Reducing or avoiding prescription and over-the-counter drugs can help to prevent rebound headaches from medication overuse. Some may find that alternative therapies are a complement rather than a replacement to drug based pain management. One such useful therapy is aromatherapy.
What is Aromatherapy?
Aromatherapy is the art and science of using essential oils to provide a range of therapeutic benefits. It is an old therapy that has been used for many years, and involves extracting liquids from various plant sources to produce an oil. Aromatherapy oils can be administered by inhalation or they can be combined with massage to provide benefits that range from stimulating to relaxing, depending on the individual's condition or goals. Essential oils are ideally best purchased pure and then combined and diluted with a mild carrier oil such as almond or apricot oil. You can fill a small bottle with carrier oil and then add several drops of pure essential oil. Be sure to shake well and then try out different application methods to find one that works for your headaches and is most comfortable to perform.
How Can Aromatherapy Help Headaches?
Various oils can be helpful for headaches and you can experiment with application methods. Some aromatherapy oils that may alleviate headaches include:
Lavender
Peppermint
Eucalyptus
Sandalwood
Ginger
Jasmine
Rosemary
The list above is certainly not exhaustive and you can find aromatherapy books at your local library or you may choose to consult with an aromatherapist. Ginger is an oil that is particularly helpful for nausea, a common symptom of migraine headaches. You can also find lotions and candles that are infused with ginger oil. You may wish to place several drops of oil into your hand and then use your fingertips to apply it to your temples in a massaging motion.
Do not use a pure oil directly on skin, as this can be highly irritating; pure oils should always be diluted in a carrier oil before applying to the body. You can also fill a basin with cold or hot water, add a few drops of oil and then moisten a cloth and place it on your head. This can be quite helpful to do when a painful headache or migraine attacks and you are simply having a rest in a dark quiet room.
Another option is to purchase a diffuser and add a few drops of essential oils and a teaspoon of carrier oil or water to the top. You place a candle underneath and this warms the scent and releases it into the air. The fragrance can help your headaches as well as infuse a pleasant aroma into your home. Many people find that a hot bath can provide stress and headache relief, so you can also add a few drops of diluted oil to your bathwater.
Be Careful
Just because an oil is 'natural,' do not assume that it is harmless. As it is not known exactly what properties in the essential oils alleviate headaches, it is wise to approach use with caution, particularly if you are pregnant or have any other health conditions. The properties of the oil as well as how it is applied influence the therapeutic effects. There is still little known about how these oils affect other systems in the body but if they are processed similarly to other drugs, they can potentially cause harm and interactions with other medications you may be taking. The potential is certainly lower than with prescription drugs but it is advised that you seek out an experienced and knowledgeable aromatherapy practitioner as well as speaking with your doctor prior to using aromatherapy for your headaches.
By selecting the right oils for your headaches and finding a method of use that works for you, aromatherapy can be a beneficial part of your pain management plan.
You might also like...