Acupuncture For Migraine Treatment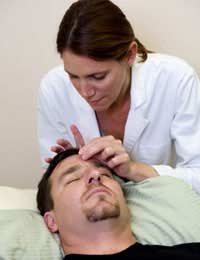 Migraine sufferers often turn to alternative forms of treatment for a variety of reasons. It may be that conventional methods aren't providing satisfactory results or it may simply be to extend the range of treatments being utilized.
Alternative methods such as acupuncture can be part of a treatment plan that does include medications and may provide some relief. It can be challenging to find solid research on alternative migraine treatments such as acupuncture because it is difficult if not impossible, to use a double-blind placebo approach, one of the gold standards of experiments.
Anecdotal evidence has, however, suggested benefit and for those suffering the debilitating pain of migraines, often on a regular basis, it is worthwhile to consider alternative approaches as part of a whole treatment plan.
What is Acupuncture?
The general theory of acupuncture is based on the idea that there are patterns of energy flow, known as Qi, that exist through the body. These patterns of energy are considered vital for life and good health and any 'blockages' or problems with the flow are considered to be responsible for disease and ill health.
With acupuncture, different techniques are used to stimulate points at the skin. There are various approaches to acupuncture but the most studied and commonly employed one involves stimulation of acupuncture points by penetrating the skin with very fine metal needles. These are manipulated manually or via electrical stimulation.
How Does it Work?
According to the theories of traditional Chinese medicine, migraine pain is the result of reduced flow of blood and energy. Therefore, to treat the root cause of the problem tension must be relieved. This is thought to improve the blood flow to the brain, thereby reducing the pain experienced during a migraine attack.
So Does it Really Work?
Some migraine sufferers will swear by acupuncture although studies still show mixed results. Acupuncture supposedly helps the body balance serotonin levels. Serotonin is a neurotransmitter that affects blood vessels and is thought to play a role in migraines. Studies also suggest that repetitive needling at any place can have powerful effects. It may not even be so much the specific point of contact, but the general stimulation itself.
The anticipation of healing seems to also be important because it provides pain perception in the brain. Whether acupuncture works is an individual experience but most experts can agree that it is unlikely to cause harm if performed by a professional acupuncturist. Acupuncture is believed to release endorphins, which are the body's natural painkillers. It can further relieve stress and relax tense muscles, which may help prevent the onset of a migraine.
Tips for Finding an Acupuncturist
When seeking out a professional acupuncturist, it is important to ensure that the acupuncturist is licensed and certified. Sterilizing procedures should be used and more often than not, your acupuncturist will likely use disposable needles. If you are uncomfortable with the idea of needles, an acupuncturist may provide alternatives such as herbal methods, magnetic needles and ear cups. These are thought to provide similar results although are not considered as effective as acupuncture that utilizes needles.
When you arrive for acupuncture, be clear with your acupuncturist that you are seeking treatment for migraines, and have as much medical information as possible. The more information you provide to your acupuncturist, the better equipped he or she will be when deciding what form of acupuncture is best for treating your migraines.
You might also like...