'Ice Pick' Sudden and Intense Headaches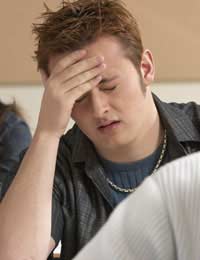 Ice pick headaches are sharp stabbing, intensely painful headaches. They are also known as 'stabbing' or 'jabs and jolts' headaches. They typically are very short, lasting between 5 and 30 seconds. They can, however, be extremely frightening because they appear quite suddenly and without warning. Also, despite being brief they can cause short-term disability if occurring often and be particularly stressful if the sufferer is in an unfamiliar place.
The sufferer may feel very confused and shocked by the sudden onset of pain and this may alarm those around him or her. Ice pick headaches can affect any part of the head and will usually disappear as quickly as they arrived, leaving the sufferer uncertain as to what happened.
This type of headache is more likely to occur in people with migraine or cluster headaches. Ice pick headaches are considered a primary headache because there is no underlying cause and they are not considered dangerous or indicative of a serious disorder. They typically affect adults and are rarely seen in young children and adolescents.
How Are Ice Pick Headaches Diagnosed?
Ice Pick headaches may be difficult for a person to explain to a physician, because their duration is so short. If you have already been experiencing headaches but the ice-pick pains are new, it is important that you don't ignore the pain and that you still see your doctor. In fact, these types of headaches commonly occur in people who experience migraines, or they may occur in people who suffer from another head pain disorder. They are sometimes associated with cluster or tension headaches.
The ice pick headaches do, however, usually occur by themselves rather than during an actual migraine or other form of headache attack. They rarely occur frequently and although intense at the time, are considered harmless.
The International Headache Society classify these headaches by:
No other disorder present
No accompanying symptoms
Head pain occurring as single stab or series of stabs
Stabs lasting for up to a few seconds and recurring with irregular frequency
Can They Be Treated?
One difficulty in treating ice-pick headaches is that they come and go so quickly. This means that by the time medication has taken effect, the headache is long gone. People who are suffering from many during a day or night, however, will require preventative treatment. It is particularly disabling at night because of the sleep disruption experienced.
One drug commonly suggested for ice pick headaches is indomethacin, which is taken in divided doses. Unfortunately, indomethacin can cause digestive discomfort and your doctor can discuss ways to alleviate any gastrointestinal upset from the drug. Non-steroidal anti inflammatory drugs can be helpful in moderating attacks.
Other options include anti-depressant drugs and anti-epileptic drugs. There has been some recent research suggesting that the hormone melatonin is helpful for providing relief from ice pick headaches while also helping a person obtain adequate and restful sleep.
Relaxation techniques may be helpful when an ice-pick headache strikes; try to remain calm and take slow, deep breaths. In some cases, the headaches may resolve on their own. This is more likely the case if you are able to identify and remove a stressor.
You might also like...